AMD Triple Core Phenom X3 8750
AMD Triple Core Phenom X3 8750
Introduction:
Today, AMD launched three new 50-series Phenom X3 triple-core processors, these will range in speeds from 2.1GHz to 2.4GHs. The new 50-series Phenom X3 processors are also free of the TLB erratum that was present in the previous revision of the silicon as are all of the Phenom processors in the XX50 series.
The new Phenom X3 processors can be found priced between $145 and $195 depending on the particular model purchased. The three models being released are the 8450 (2.1GHz, $145), 8650 (2.3GHz, $165), and the 8750 (2.4GHz, $195). Since the new Phenom X3's will be priced below the X4 lineup and has a max TDP of 95W, they are a good compliment to the new AMD 780G platform, seen in our recent review of the Asus M3A78-EMH HDMI.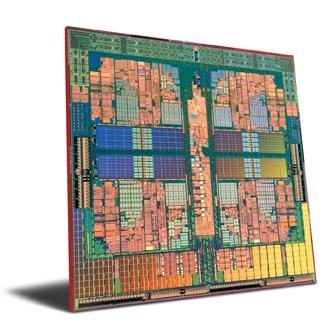 Specifications:
AMD Phenom X3 8000-series processor:
Processor Model / Frequency: X3 8750 / 2.4GHz
Processor Model / Frequency: X3 8650 / 2.3GHz
Processor Model / Frequency: X3 8450 / 2.1GHz
L1 Cache Sizes: 64K of L1 instruction and 64K of L1 data cache per core (512KB total L1 per processor)
L2 Cache Sizes: 512KB of L2 data cache per core (1.5MB total L2 per processor)
L3 Cache Size: 2MB (shared)
Memory Controller Type: Integrated 128-bit wide memory controller (configurable for dual 64-bit channels for simultaneous read/writes)
Memory Controller Speed: Up to 1.8GHz with Dual Dynamic Power Management
Types of Memory Supported: Support for unregistered DIMMs up to PC2 8500 (DDR2-1066MHz)
HyperTransport 3.0: One 16-bit/16-bit link @ up to 3.6GHz full duplex (2.0GHz x2)
Total Processor Bandwidth: Up to 31.5 GB/s bandwidth
Packaging: Socket AM2+ 940-pin organic micro pin grid array (micro-PGA)
Fab location: AMD's Fab 36 wafer fabrication facilities in Dresden, Germany
Process Technology: 65-nanometer DSL SOI (silicon-on-insulator) technology
Approximate Transistor count: ~ 450 million (65nm)
Approximate Die Size: 285 mm2 (65nm)
Max Ambient Case Temp: 70 degrees Celsius
Nominal Voltage: 1.05-1.25 Volts
Max TDP: 95 Watts
As you can see the 8750 is essentially the more cost effecient sibling to the 9XXX series Phenom processors while running cooler due to running one less core. AMD has additionally reduced the HT speed from 2.0GHz to 1.8 on the triple core processors which may be an effort to avoid an internal CPU war between Phenom X4 and X3's. Additional differences include the L2 cache which is 1.5MB total as opposed to 2MB on the X4's which is reflective of the disabled 4th core.