AMD Sempron 2800+ & 3100+
Review by Jason Jacobs & Matthew Homan on 7/28/04
Test System provided by AMD


Introduction: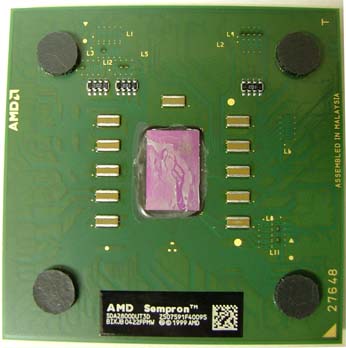 Sempron Socket A

AMD has developed a new 32-bit processor, and TechwareLabs has it in the lab for a few rounds of intensive testing. Named Sempron, it is AMD's answer to the Intel Celeron "D" processor. This means that we don't expect the Sempron will break any land speed records for gaming, however, it should handle office applications and workstation duties quite well. With the processor's target market in mind, we set out to test performance in a wide range of applications and benchmarks.



The test systems were configured as follows:

ASUS A7N8X-VM/400
2 x 256 MB Infineon CL 2.5 DDR
AMD Sempron Socket A 2800+

Albatron K8X800 Pro II
2 x 256 MB Kingston HyperX PC3200 CL 3
AMD64 Sempron Socket 754 3100+

Intel 865GLC
2 x 256 MB Infineon CL 2.5
Intel Celeron 2.8 "D"

All systems were configured with Windows XP SP1 and Direct X 9.0b on a Western Digital WD800JB.

Pricing for the Sempron Socket A falls out as follows:

Price: 1K units for
2800+ ($103)
2600+ ($79)
2500+ ($69)
2400+ ($52)
2300+ ($45)
2200+ ($39)

The Sempron should appeal to busniesses looking for mid-range desktop computers, and consumers building new systems with tight budgets. Check out the Sempron Socket A/462 specifications below:
TECH SPECS:
AMD Sempron Processors: 2200+, 2300+, 2400+, 2500+, 2600+, and 2800+ (SOCKET A)
Manufactured: Fab 30 in Dresden, Germany
Process Technology: 130 nanometer technology
Packaging: Socket A: 2200+, 2300+, 2400+, 2500+, 2600+, and 2800+
Types of Memory: PC1600, PC2100, PC2700 and PC3200 DDR unbuffered memory
Front Side Bus (FSB): 333 MHz FSB
Cache Sizes: 256K (exclusive) L2 cache; 128KB L1 cache
Voltage & Heat Dissipation: 62W Max
Die Size: 84 mm²
Transistors: approximately 37.5 million
Frequency: 2800+ 2.0GHz, 2600+ 1.833 GHz, 2500+ 1.750 GHz, 2400+ 1.667 GHz, *2300+ 1.583 GHz, and 2200+ 1.5 GHz
Chipsets: NVIDIA, SiS and VIA
Motherboards: ASUS, MSI, Gigabyte, Biostar, Shuttle, ECS, Leadtek, Abit, EPox

A Word On Cache:
Essentially, the Sempron is an Athlon XP with half the cache, which runs at lower temperatures and higher clock frequencies. The Sempron takes the place of the AMD Duron, but features twice as much cache as the Durons did. As past discussions have explained, not all processors benefit the same way from increased cache. An additional 128k of cache for the Sempron will affect benchmarks differently than would adding 128k of cache on the Celeron 2.8 or 2.6 "D." The difference is because of the way the to processors handle the cache.

Intel uses a more conventional L1/L2 cache architecture known as an inclusive architecture. Inclusive caching means that the contents of the L1 cache are also included in the L2 cache. The affect is that the L2 cache may contain redundant data that the CPU will not need. This means the CPU has less cache to store data in. As far as the rest of the system and components are concerned, inclusive caching does not provide additional benefit.

On the flip side are the Athlon XP and Sempron processors, which use the exclusive caching principle. With exclusive cache, the contents of the L1 are not present in the L2 cache. The exclusive principle works well for AMD due to the added cost of duplicating 128k in L2 as compared to Intel's 8KB L1 cache.
Let's take a look at what CPUZ has to report on the Sempron 2800+.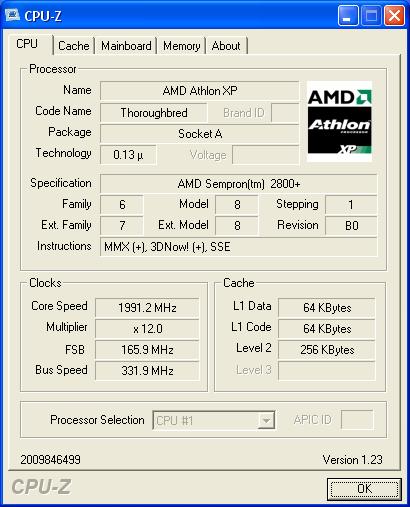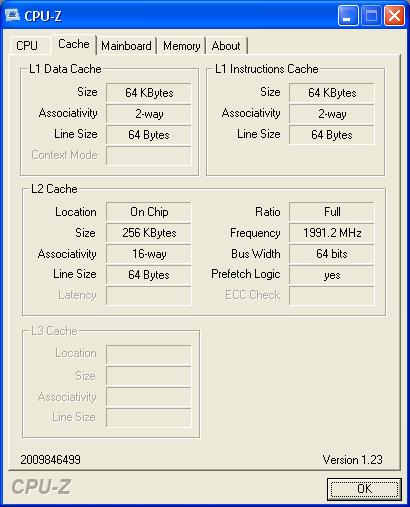 It is interesting to note that CPUZ thinks this is an Athlon XP running at nearly 2ghz. The Asus board had no bios options available for FSB or multiplier so we were unable to raise the frequency to an actual 2ghz.
So enough with the stuff you already know... Lets see some results!
Shopping Matches for AMD Sempron: