AMD Sempron 2800+ & 3100+
Review by Jason Jacobs & Matthew Homan on 7/28/04
Test System provided by AMD


AMD Sempron Socket 754 3100+
The AMD Sempron Socket 754 will eventually replace the socket A Sempron and lead the industry into a stage of budget performance computing. The Sempron speed performance ratings on the socket 754 chips should not be compared to the existing Socket 754 Athlon 64 processors. The Sempron Socket 754 was meant to compete against Celeron chips and are so rated to give an "apples to apples" approach to comparison. An existing AMD 64 3000+ Socket 754 in-house performed slightly better than the Sempron 3100+, due to the lower cache size and the disabled 64 bit ability of the Sempron. Consumers seeking Athlon XP prices with much greater performance due to the added on processor memory controller would do well to check out these processors.
AMD Sempron Socket 754 3100+ Tech Specs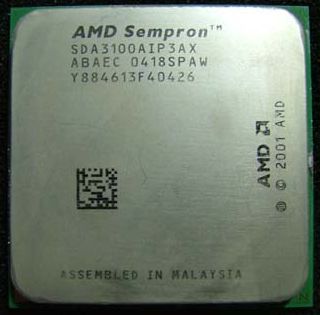 AMD Sempron Processor: 3100+ (SOCKET 754)
Manufactured: Fab 30 in Dresden, Germany
Process Technology: 130 nanometer SOI (silicon on insulator) technology
Packaging: Socket 754: 3100+
Memory: 64-bit integrated memory controller - 3.2 GB/sec
HyperTransport Links: Supports single link - up to 6.4 GB/sec per link I/O bandwidth
Effective data bandwidth: Up to 9.6 GB/sec (HyperTransport plus memory bandwidths)
FSB: 400 MHz System Bus
Cache size: 256K (exclusive) L2 cache; 128KB L1 cache
Voltage & Heat Dissipation: 62W Max
Die Size: 144mm2
Transistors: approximately 68.5 million
Frequency: 1.8 GHz
Price: $120 per processor at 1000 units
Chipsets: NVIDIA, SiS and VIA
Motherboards: ASUS, MSI, Gigabyte, Biostar, Shuttle, ECS, Leadtek, Abit, EPox
As you can see, the AMD Sempron has some impressive specifications which are nearly identical to its big brother, the AMD 64 Socket 754. The Sempron comes with half the cache and 64-bit abilities disabled, however, it costs only a fraction of the AMD64's price. The performance difference is very slightly in favor of the AMD64, with the Sempron being able to completely handle all 32-bit applications, as the Athlon XP does, but with an increase in memory bandwidth and performance. The decreased cache will hurt the Sempron only slightly in gaming and application performance.
The Test system was configured as follows:
Albatron K8X800 Pro II
2 x 256 Kingston HyperX PC3200 CL 3
AMD64 Sempron Socket 754 3100+
For reasons of fairness, Techwarelabs chose not to compare the Sempron 3100+ scores to the Intel Celeron. As Intel's highest-rated Celeron is 2.8 Ghz, it be unfair to compare it to the 3100+ with the added benefit of an onboard memory controller. Such a comparison would not be an "apples to apples" demonstration and would reflect poorly on the Celeron.
What can the Sempron 3100+ do?
Shopping Matches for AMD Sempron: