Lite-On LTR-48246S 48x24x48 CD-RW
Reviewed by Akimoto
Provided by Lite-On Inc

Lite-On has been ramping up the speeds with its last few releases of CD-RW drives, though not necessarily by numbers. Most recent burners use Z-CLV writing strategies (Zone Constant Linear Velocity). In Z-CLV, writing is segmented into zones of constant writing speed. Lite-On's LTR-4012485W drive was the first to break the Z-CLV trend and implement P-CAV (Partial Constant Angular Velocity) writing, and later full fledged CAV writing (Constant Angular Velocity) with the LTR-48125W. CAV mode writing spins the disc at a constant rate, and gradually increases the writing speed over the course of the disc. Lite-On also has made it a point to give full Mt. Rainier support to its drives since the LTR-40125W. However, the main attraction of this drive over its predecessor, the 48x12x48, is it's ability to rewrite at 24x. For about two years rewriting had hit a plateau at 12x, and only recently was it broken with Yamaha's 44x24x CD-RW. Lite-On was the next to release faster rewriting with the item in question today (much to the chagrin of Plextor), first as rebadge drives for other companies and then as its own retail product.
Features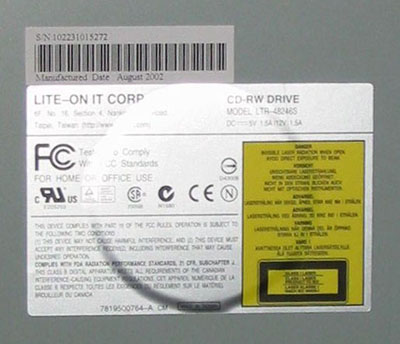 48X (CAV) Record, 24X (CAV) Re-Write & 48X (CAV) Read technology.
E-IDE Interface, support up to Ultra-DMA mode 2.
Buffer Size: 2MB
Innovated SMART-BURN® technology to automatically check media quality and set limit to burning speed to ensure successful writing sessions & data retainability (can be turned off)
Buffer underrun error free & automatically adjust writing strategy plus running OPC to meet various burning condition. (always active)
Innovated SMART-X technology, support up to 48X speed Digital Audio Extration (DAE) and high speed VCD data extraction
Supporting Plug & Play ; Emergency manual eject.
Supporting Fixed & Variable Packet, TAO, SAO, DAO, Raw Mode, Over-Burn.
Read/Write CD, CD-R, CD-RW Disc up to 99min. (Orange Book Part 2,3)
Easy-Tray® design for both horizontally & vertically use
Gear-Driven tray disc-loading mechaniasm to Improve reliability & life, no any belt-loose belt-broken issue.
VAS® Vibration Absorber System Mechanisam to reduce vibration & noise during read & write
Use Flash ROM supports internet firmware upgrade.

The drive was manufactured in August, which means that this drive itself probably will not be hitting US markets too soon, though it's available in Asia. The drive that was sent for review was OEM without any retail documentation. However, after requesting some technical information and doing a few tests, there were not too many mysteries about this drive specifications and abilities.

This drive looks exactly like its predecessors, minus the 48x24x48 decal near the eject button. The drive has one LED that lights up green when reading or accessing the media, red when burning, and yellow when using its buffer under-run protection, Smart-Burn. It also includes a headphones jack, a volume control, and an emergency eject hole.

On the back of the drive are the jumpers, IDE interface, analogue outs, and the four-pin power connector. The default setting for the jumpers is slave.
Technical Specifications
Read Speed

48 Max

Write Speeds

4x, 8x, 12x, 16x (CLV)
21x-24x, 21x-32x, 21-40x (P-CAV)
21x-48x (CAV)

Re-Write Speeds
4x, 8x, 10x, 12x (CLV)
12x-24x (CAV)

Read Speed

48x Max
Supported Formats
CD-DA, CD-ROM, CD-ROM/XA, CD-I, Video-CD, Karaoke CD, Photo-CD, Enhanced CD, CD extra, I-Trax CD, and CD-TEXT
SMART-BURN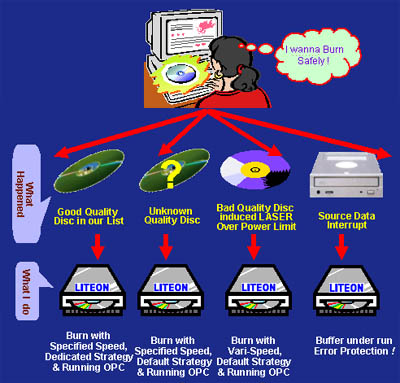 Smart-Burn stands for Smart Monitoring & Adapting Recording Technology for BURNing. Unlike some proprietary technologies, Smart-Burn is not just buffer under run technology. It provides an entire method for dealing with poor media, unlisted media, and of course, buffer under runs. In one case, if the media is listed in the drive's firmware database, it will take it's strategy for this specific media and use it while burning. In the second case, if the media type is unknown, it will run OPC (Optimal Power Calibration) to evaluate the media and determine the appropriate writing strategy. Third, if the media quality is bad, the drive will run OPC and constantly reevaluate the writing strategy and change speeds over the course of writing in order to adapt to the inconsistent media.
SMART-X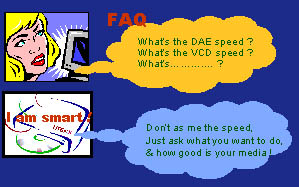 SMART-X stands for Smart Monitoring & Adjusting Read-speed Technology for eXtraction. Smart-X works in two ways. First, it adjusts audio or video extraction form CDs to meet the needs of the program using it (for example, viewing a VCD or burning on-the-fly). Second, it checks the media for errors or scratches and slows down to ensure the best possible extraction.