ATI 9600Pro vs. Nvidia 5600
Reviewed by James Sams on 09.26.2003
3D Mark 2001SE
The 3d Mark 2001SE benchmark has been around for several years and is one of the more trusted constructed tests on the market. While both ATI and Nvidia have attempted to skirt corners on the test, the benchmark itself remains relatively trustworthy. It is also useful because the point system also attempts to weigh in the quality of the produced images in addition to the speed with which they are produced. Of course, this gives some subjectivity to the test, but helps to standardize the quality of the image production. So, without further ado, here are the results: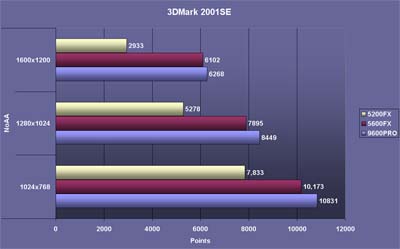 The 9600PRO is able to hold clearly ahead of the 5600 card. However, as resolution increases, the 5600 scales much better, probably due to the increased memory bandwidth on the GeForce card. For comparison's sake, we will throw in several examples of 5200FX performance, to show how the 5600 and the 5200 match up to each other. The card we compared it with is the 5200U provided by Albatron.



Again, the increased resolution allows the 5600 to come almost exactly even with the 9600PRO.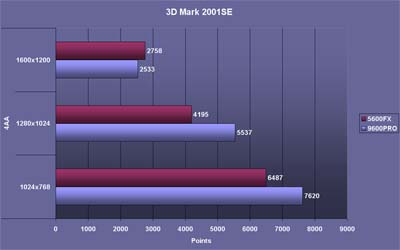 This time, the 5600 pulls ahead of the 9600. ATI should consider upping their memory bandwidth. At that point, their card may be able to handle higher quality images more effectively.