EVGA e-Geforce 8800 GT KO
EVGA e-Geforce 8800 GT KO Series Video Card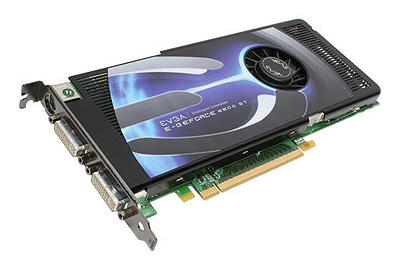 Techware Labs takes a look at an NVIDIA 8800 series card that was gratefully provided to us for review by the wonderful people at EVGA; sending us the 8800 GT KO with 512MB of memory on it. This 8800 GT KO is not EVGA's top of the line video card within the 8800 video series, which happens to be their 8800 Ultra Superclocked version with 768MB of memory, but the 8800 GT KO card is reasonably priced at $269.99 currently. If you couple this with the fact that it is a PCIe 2.0 single slot design card (taking up the space of one video card), with an excellent heat-dissipating shroud, the 8800 GPU that supports up to DirectX 10 graphics and requires only a single PCIe power connector, then what you have here is an extremely attractive graphics solution that has become more popular for the gaming enthusiast for DirectX9 and DirectX10 game titles..
EVGA provides their cards with a great warranty if you register the card with them; with the registration you are rewarded with a limited lifetime warranty on your new video card, but if you do not register the card with them you get only a one-year warranty. So it really pays to register your EVGA video card with them to get this limited lifetime warranty they offer. EVGA even allows the consumer to upgrade their card to a higher-end video card if you do this within 90 days of purchase, with proof of purchase of course, and only charging the consumer the difference in price from your card to the card you want to upgrade to! This is a fantastic way of doing business and consumers should always take these additional perks into consideration when making a purchase on any computer equipment.
Next we will take a look at the specifications that this card has for the consumer.
Real Time Pricing: