Author:
Mike Santini
Date:
2008.09.10
Topic:
Video
Provider:
Palit
Manufacturer:
Palit
Palit ATI Radeon HD 4850

Introduction
As you may know, ATI released their 4800 series a little over a month ago. Since then, ATI has really shown NVidia the door, offering outstanding graphics cards at a significantly cheaper price. Recently, Palit sent us their ATI Radeon HD 4850 graphics card to test and see how well it performs. Lets see how it weighs in.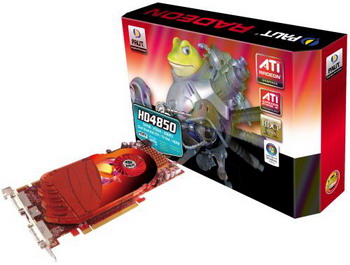 Product Overview
ATI Radeon™ HD 4800 Series GPUs bring the power of graphics 'supercomputing' to gamers, setting a new standard for visual computing. Redefine the way you play and take HD gaming to the extreme with best-in-class performance. With one teraFLOPS on tap, the TeraScale graphics engine delivers an impressive, cinematic gaming experience. Add this graphics card to your PC and watch Blu-ray movies and play HD content with incredible visual fidelity or take your experience to another level with new multimedia capabilities. Do it all with break-through efficiency that doesn't compromise performance.
Redefine HD Gaming

With more than twice the processing power of previous generation AMD discrete graphics cards, ATI Radeon HD 4800 Series graphics cards deliver a cinematic gaming experience and unprecedented performance.

The new TeraScale graphics engine combines the power of one teraFLOPS, 800 stream processors and next generation GDDR5 memory to propel you deep into your game play with seamless frame rates and high resolutions.
Enhanced anti-aliasing (AA) and anisotropic filtering create striking graphics with unparalleled realism so you can max out the settings of the most demanding next-generation games or revitalize your favorite titles.
Play today while preparing for tomorrow with tessellation, support for DirectX® 10.1 and scalable ATI CrossFireX™ technology.

Go Beyond HD Video

Add an ATI Radeon HD 4800 Series graphics card to your PC and watch the latest Blu-ray and HD movies play with incredible fidelity1 – upscale to nearly twice the display resolution of HD content.2 Take full advantage of Blu-ray functionality with dual-stream, picture in picture (PIP) capabilities.
Sophisticated new features within ATI Avivo™ HD technology give you the freedom and flexibility to edit videos quickly and convert them to H.264 and MPEG-2 formats 1.8x faster than real-time.3
Support for the latest audio visual interconnects ensures you can take advantage of the latest display technology.

Break-through Efficiency

Like their predecessors, the ATI Radeon HD 4800 Series graphics cards offer optimal performance and break-through efficiency with platform-independent intelligent power management.
Regardless of platform, these graphics cards deliver the power needed to blaze through even the most intense games while intuitively conserving energy at idle or when demand is low.
ATI Radeon HD 4800 Series – Key Features

TeraScale Graphics Engine - The new TeraScale graphics engine features over one teraFLOPS, nearly one billion transistors and 800 stream processors so you can enjoy the high resolutions and fast frame rates previously only available with dual-card systems.
Advanced Memory - GDDR5 memory provides twice the bandwidth per pin of GDDR3.
Enhanced Anti-Aliasing & Anisotropic Filtering - High performance anisotropic filtering and 24x custom filter anti-aliasing (CFAA) smooth jagged edges and create true-to-life graphics, for everything from grass to facial features.
DirectX® 10.1 - Play today while preparing for tomorrow with state-of-the-art DirectX 10.1 graphics capabilities.
ATI CrossFireX™ Technology - ATI CrossFireX™ technology with up to quad GPU support offers superior scalability so your system is ready to level up when you are.
PCI Express 2.0 - Support for PCI Express 2.0 will prepare you for bandwidth-hungry games and 3D applications.
Unified Video Decoder 2 (UVD 2) - UVD 2 frees up your CPU for other tasks so you get The Ultimate Visual Experience™ for even the most processing-intensive content, including VC-1, H.264 and now MPEG-2. Also, take full advantage of Blu-ray functionality with dual-stream, picture in picture (PIP) capabilities.
Accelerated Video Transcoding (AVT) - AVT allows you to convert videos to H.264 and MPEG-2 formats up to 19x faster than when using a just CPU.3 Full 1080p files can be converted to H.264 and MPEG-2 up to 1.8x faster than real-time.3
Upscale Beyond 1080p - Watch the hottest Blu-ray movies or other HD content at full 1080p display resolution and beyond.1
Enhanced DVD Upscaling - Watch standard DVD movies in near high-definition quality with DVD upscaling. The GPU uses post processing algorithms to enhance standard and low resolution videos and movies on your HD display.
Dynamic Contrast - Dynamic Contrast automatically adjusts the contrast and brightness during scenes to consistently deliver a crisp, vibrant picture.
HDMI - Enjoy the latest audio technologies using HDMI with 7.1 digital surround sound support. Also, xvYCC support allows the user to enjoy a wider range of color when connected to a capable HDTV.
Dynamic Power Management - ATI Radeon HD 4800 Series graphics cards deliver high performance when needed and conserve power when the demand on the graphics processor is low.
More Performance Per Watt - ATI Radeon HD 4800 series delivers up to 2x the performance per watt of AMD's previous generation GPUs.

REALTIME PRICING