Trillian Pro 2 'Public' Beta Review
Reviewed by James on 09.15.2003
Price: $25.00

Company Introduction
Three years ago, Trillian started out as a basic IRC client which quickly expanded to support the AIM, MSN, ICQ, and Yahoo messaging protocols. It was, at first, a free program (free as in beer) but the developers, working under the name Cerulean Studios about a year ago, on September 10, 2002, released their Pro version, Trillian 1.0 and, for the first time, charged for it, US$25. They still maintain a free version, but withold features from it, and it continues to be developed under the 0.7x series. Their users were promised a year of free upgrades and lifetime patches and membership to the forums. After the entire year, only patches have been released, until now, with the beta release of the 2.0 version, expected out before September 10.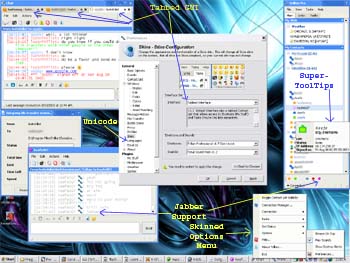 Overview
Cerulean Studios touts a feature and fix list with over 200 entries. Unfortunately, some of the new 'features' include such things as "Feature: Revamped some drawing code to support future technologies" (Can CS get more specific?), "Feature: Scroll the window while you select text," (Not sure that qualifies as a feature, but more of a basic function that was previously broken), "Feature: Tabbed window option for containers (forces maximize state)" and "Feature: Tabbed windows," (what's the difference?). I think this is called feature list bloat. However, there is a lengthy list of unique and welcome new features and bug fixes. Using the flash tour provided on the CS website, the list of the important new features can be listed fairly quickly: full unicode support, per connection contact lists, Super Tooltips, Jabber plugin, tabbed interface, Seamless Skin Installation, SDK 2.0 allows more connectivity and plugins talk to other plugins, system tray menu skinned, and a typing indicator. As a roadmap for the review, we will first glance over the initial feature set of Trillian 1.0 Pro (for those who have not had the chance to check it out), then move on to review and evaluate the implementation of the advertised features, and then evaluate the progression of Trillian.