In Win Metal Suit GunDam Case
In Win Metal Suit - GunDam Case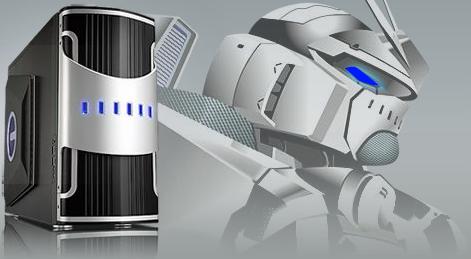 Introduction
First and foremost, I would like to give a special thanks to Dan Shannon as he contributed a significant amount of work and information to make this review possible.
As we all know, when your you build your own computer, the case is the first thing you see. As we also know, what may be top of the line today, may be obsolete tomorrow. The designers of the In Win Metal Suit GunDam realized this and attempted to give you a case that will stay up to date no matter how much time has passed. With the exception of the motherboard, the GunDam is completely quick release. This allows you to remove and replace hardware in seconds rather than minutes as well as clean fans that otherwise wouldn't be worth the time or effort. With two huge 120mm fans and a Dual VGA Turbo Cooling System, this case is sure to stay cool, even if overclocking is something you're into. If liquid cooling is what you are concerned about, there is also no need to worry, the GunDam is liquid cooling capable. One look at the GunDam and you will realize that this case is like no other.
Specifications
Case Type

Material

Aluminum Front Panel - 0.8mm Japanese Steel

Drive Bays

4 - External 5.25"
2 - External 3.5"
5 - Internal 3.5"

Motherboard Size
Power Supply

ATX 12 Form Factor
PS2 Size

I/O Expansion Slots

7 - PCI/AGP Expansion Slots

Front Input/Output Ports

1 - IEEE 1394A
4 - USB 2.0
1 - Audio Port (HD/AC'97)

Dimensions
Thermal Solutions

Smart 3D UnDuct
12cm Ceramic Fans at front and rear panels
VGA Turbo Cooling System with 8cm side ceramic fan x 2
Supports Liquid Cooling

Features
Robot-Inspired Aluminum Faceplate

Robotic design elements evoke the strength of a valiant guardian. Forged out of aluminum, the firm lines of the front plate and detailing convey the aesthetic of a futuristic machine world.

Curved Metal Side Cover

The side panel ventilation cover is designed to complement the robotic design theme, while the feature side ventilation holes with artistic curvature and geometric lines fully express the machine aesthetic.

Serene Blue LED Light

A serene blue glow, cold aluminum, and metallic mesh all work to create a unique modern style, of a silent guardian who keeps global peace.

Revolutionary Highly Efficient Thermal Solution

With up to 4 rear/front/side ceramic bearing fans can be installed in the chassis, In Win newly-designed thermal solution provides an ideal heat ventilation for your gaming system.

Dual Fan VGA Cooling System

The dual-intake fan cage has been exclusively designed according to a twin engine motif. It can accommodate up to two 8cm side fans, with one fan being able to be adjusted, which maximizes cooling for any high-end VGA card and hard drives.

Smart 3D UniDuct

Designed to provide the ultimate thermal cooling solution, the patented In Win Smart 3D Uneducated™ will adjust accordingly to accommodate most motherboards.

Patented Shock Free Railing System

The Patented Shock-Free Railing System is designed to make installation easier and provide protection for your drive bays.

High Expandability - 11 Drive Bays

With a total of 11 drive bays available, Metal Suit GD will accommodate all your needs.

Tool-Free Mechanical Design

Screw-less I/O expansion slots, front/rear/side EZ™ fans, and swerving HDD cage make assembling a fun, easy and enjoyable experience.