PolarFLO Water Block and Fan Adapters
Reviewed by Jason Jacobs on 09.03.2003
Provided courtesy of PolarFLO
Horse of Iron is a full service machine shop. They specialize in robotics, laser, and the computer industry. Recently the Techware Labs was sent a sample of their water block and fan adapter for review. Each of the products from Horse of Iron is milled from solid metal. Fan adapters are milled from solid aluminum and the water block is milled from both aluminum and copper. Milling from a solid piece of metal is worth mentioning because the alternative is a block or adapter made from a mold and molten metal. Such a product is inferior due the the possibility of bubbles in the metal. Additionally, molded pieces crack more easily when portions of the metal that were poured cool faster than others. Milling is a more expensive, time consuming process, however, the end result is a product that will stand up to time and stress.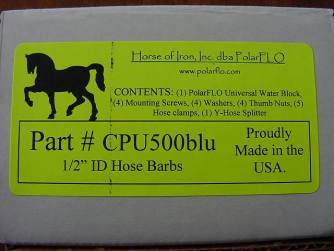 The water block comes well packed in a box with all associated hardware needed for mounting and tubing.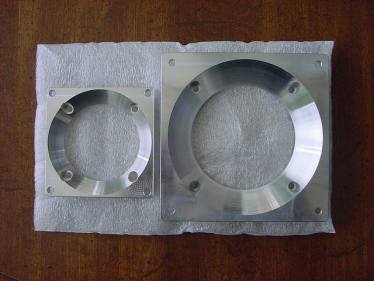 Aluminum fan adapters come packed in bubble envelopes. Shown here are the 80mm to 120mm adapter and the 60mm to 80mm adapter.