Fanatec Porsche 911 Racing Wheel
Fanatec Porsche 911 Racing Wheel

About Fanatec:
Fanatec is a leading brand of high-end input devices for game consoles (PlayStation® 2/PlayStation® 3/Xbox®/Xbox® 360™) and PCs. Designed and manufactured by parent company ENDOR AG, the brand's focus is centered solely on offering highly innovative and highly functional products designed to enhance and maximize the gaming experience. The brand is sold in Asia, Australia and Europe through distributors and in the U.S. directly through its ENDOR AG USA LLC subsidiary. Headquartered in Landshut, Germany, ENDOR AG was founded in 1997. For more information, visit www.endor.ag. To learn more about the Fanatec lineup of products, visit www.fanatec.com.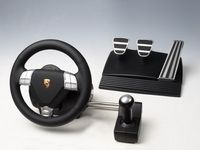 Today TechwareLabs takes an in-depth look at the Porsche® 911 Turbo Racing Wheel from Fanatec and distributed by Pacific Media Partners. Licensed by Porsche Lizenz- und Handelsgesellschaft mbH, the Fanatec Porsche 911 Turbo Racing Wheel offers gamers latency free wireless USB technology (wheel and pedals), three force feedback motors and smooth belt drive, both of which help to deliver sensational realism, 6+1 speed H-pattern gear stick with realistic shifting feel, and authentic wireless pedals with realistic clutch pedal (with declining resistance) and brake with soft-stop. The wheel itself is covered with fine, automotive grade leather.

Other key features include:
1. Tuning display: allows gamers to change settings like sensitivity or Force Feedback during game play.
2. Adjustable turning angle: changes can be made directly on the wheel to 900°, 360°, 180° or in 1° steps by software.
3. Extra strong Force Feedback effects: Powerful Mabuchi RS 550 Motor.
4. Additional Force Feedback actuators in the wheel: stimulate motor vibrations.
5. Extra smooth and silent belt drive without mechanical dead zone.
6. Two separate shifters: an H-pattern shifter and a sequential shifter.
7. Illuminated buttons: show different symbols whether you connect the wheel to the PlayStation or the PC.
8. 1 GB USB flash drive: Driver and manual are stored on flash drive in the shape of a Porsche key.
9. Original Porsche 911 Turbo steering wheel design - Licensed by Porsche.
10. Authentic metal Porsche logo on the wheel.
11. Hand-stitched leather wheel manufactured according to Porsche quality standards.
12. Compatible with PC and PlayStation®3 (all games which support Force Feedback wheels).
13. 6+1 Speed H-pattern gear stick with realistic shifting feel.
14. Additional exchangeable sequential gear stick included.
15. Wireless pedals with +100 hours of battery life time.
16. Realistic clutch pedal with declining resistance.
17. Gear sticks are interchangeable and can be mounted on the left or right side.
18. For PC: Strong table clamps with quick release, special non-slip rubber pads, and Velcro strips on the pedals keep everything in place.
19. For PlayStation®3: Attachable lap wings and the attachment of the gear sticks to the wheel allow comfortable game play in the living room without the use of a table.
20. High resolution wheel sensor.
21. Saves up to 5 wheel set-ups.
22. Adjust sensitivity independent from the game.


REALTIME PRICING