AOpen AX4GE Tube-G
Review by Harry Lam on 03.13.03
Motherboard provided by AOpen
Introduction: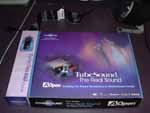 When the AOpen AX4B-533 Tube came out in June 2002, the Intel 845E based board raised quite a stir in the hardware and audiophile communities. No one before had ever imagined the implementation of a vacuum tube based amplification system into a computer. Today, we're going to take a look one of the next motherboards in AOpen's TubeSound series, the AOpen AX4GE Tube-G.
AOpen only recently (on Dec 3, 2002) announced four new TubeSound based motherboards, based on Intel's 845PE/GE chipsets. For the vacuum tube amplification portion of the motherboard, their design remains very similar, with a few structural and ascetical enhancements. However, despite the similarities there are some stark differences between the AOpen AX4GE-Tube and it's predecessor.
What Makes a Vacuum Tube so Great?
I'll take a quote from AOpen's page explaining their TubeSound Technology:
Skepticism has argued that even an average solid-state amplification device is measurably superior to the best tube device, but the argument may not stand the trial of tonality. So let us make it simple here. We love what we hear regardless of harmonic distortion as well as the limited frequency response compared to a solid-state device. With tube technology, the music is more musical!
Sound wise, vacuum tubes are known to produce a more "harmonic" and "warmer" sound than solid-state amplification. The sound is said to be more realistic, and it's this that vacuum tubes have their advantages over transistors (especially in the mid-high ranges).
Making things simple, one primary advantage in the argument for vacuum tube amplification over solid-state amplification is due to how tubes handle signals when they're pushed to their limits--when their maximum power is reached. Traditional solid-state based amplifiers have a tendency to clip their signal when their power limits are reached, resulting in much more distortion. However, vacuum tubes gradually compress the signal as their limits are reached, resulting in less distortion (i.e. making the audio much more appealing). Don't get me wrong, vacuum tubes do have more distortion than regular solid-state amplifiers, but not only is the distortion more gradual at the limits of the circuitry, but the type of distortion that vacuum tubes produce is different (and less harsh than the distortion produced by solid-state amps).