Streamzap PC Remote

Reviewed by Travis Griggs on 05.12.2004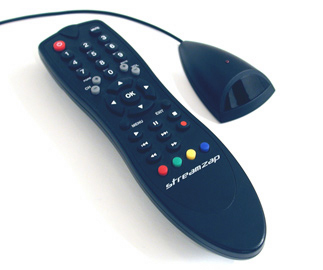 Not Your Everyday Remote:
Are you planning on building a multimedia or MP3 player PC for your home entertainment center? The Streamzap PC Remote is your final piece to the puzzle.
The Streamzap remote looks almost like your standard TV/VCR remote control with channel up/down buttons, volume buttons, etc. Except this one isn't your Dad's everday remote control, this one controls your PC wirelessly via a small USB receiver! The receiver uses infrared to communicate with the remote and requires line of site, just like conventional remotes. This means that the receiver has to have a clear, unobstructed path to the signals coming from the remote to work. The Streamzap remote is customized to control over 120 different applications. Don't see your favorite application listed, submit a request for it to be added.
Is your system up to the remote expierence?
Your system must meet the following requirements in order to use the Streamzap PC Remote:
* Microsoft Windows 98, 98 SE, ME, 2000, XP, or 2003 operating system
* Pentium 90 CPU or newer and 32MB of RAM
* One (1) available USB 1.1 or 2.0 port
* Two (2) AAA batteries (not included)
* 10MB of available disk space
Product Specifications
* USB infrared receiver (cable length: 1.9 meters)
* 35 buttons for full PC control
* 40 foot operating range (line of sight)
* 4 configurable macro buttons
* Uses 2 standard AAA batteries
Let's get on with the review!

Shopping Matches for StreamZap PC Remote: