Mophie Juice Pack for the iPhone
Mophie Juice Pack for the iPhone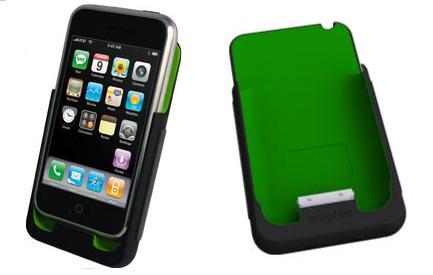 Introduction
As who has used an iPhone to browse the web for more than a couple hours knows, the battery life on the iPhone leaves a lot to be desired. Introducing the Mophie Juice Pack! This Slim, slide on Battery pack claims to give you the same amount of talk time as if your iPhone were fully charged. If looks were the only thing that mattered, the Mophie juice pack would be the hottest juice pack on the market, However, this is one accessory where performance counts. Lets see how the Mophie Juice Pack does...
Mophie's Take
"The All-New mophie 'Juice Pack' is designed to extend the time you can Rock, Talk, Surf and Send with your iPhone
This is the first Apple certified "Works With iPhone" attached battery in the world!
The Juice Pack is a rechargeable lithium polymer battery in the form of a non-slip, soft grip case. It extends the time that you can use your iPhone in these ways (additional hours):
Standby Time – Up to 250 hours
Audio Playback – Up to 24 hours
Talk Time – Up to 8 hours
Video Playback – Up to 7 hours
Internet Use – Up to 6 hours
All juiced up and ready to go… straight out of the box!"
Packaging
As with most cell phone and iPod accessories, the Mophie juice pack's packaging was compact. The juice pack came completely wrapped in plastic, then placed in a small box. This may not be the best packaging of any electronic out there, but it does portect the juice pack from anything that it may incur durring shipping.
| | | |
| --- | --- | --- |
| | | |
| Front of Box | Rear of Box | Contents Out of Box |
REAL TIME PRICING