AMD released its 4800+ dual core processor some time ago to compete with Intel's dual core processor line. Now AMD is releasing another competitor: the 3800+ X2. As its PR indicates, it is not targeted to be faster then the 4800+, but it was developed to compete with Intel's socket 820 2.8GHz processor. The reason for the development of a 3800+ X2 is for the consumer who cannot afford the high cost of the 4800+ X2, but still wants a dual core 64-bit AMD processor. TWL was able to get its hands on the processor for a week of testing, and with a few benchmarking tools, and a few games and applications, we gave the 3800+ a pretty good run-through
The AMD 3800+ X2 marks the next process in the X2 lineup, as it enters the lineup "before" any of the currently released chips as a 2.0 Ghz part. Although it may not be obvious at first, this makes perfect sense, and promises to benefit AMD enthusiasts greatly. The 3800+ X2 offers "midrange-enthusiasts" the chance to experience the benefits of the X2 without the heavy price point of the higher-end chips. AMD intends this chip to compete against the Intel 820 and 830 parts. We will be taking a look at just how well the AMD fares against its Intel rival a bit later on, but first let's take a look at the specifications of the 3800+ X2.
Specifications:
AMD ATHLON 64 X2 3800+ PROCESSOR TECH SPECS:
Frequency / L2 Cache:
2.0GHz w/ 512KB L2 cache-per-core (1MB total L2)
L1 Cache Sizes:
Each core has its own 64K of L1 instruction and 64K of L1 data cache (256KB total L1 on die)
CPU to Memory Controller:
same as CPU core frequencies
Memory Controller:
Shared integrated 128-bit wide memory controller
Types of Memory:
PC1600, PC2100, PC2700 and PC3200 unbuffered DDR memory
HyperTransport Links:
1
HyperTransport Spec:
2GHz (2x 1000MHz / DDR)
Effective data bandwidth:
14.4 GB/sec [8GB/sec x 1 HyperTransport link + 6.4GB/sec memory bandwidth]
Front-Side Bus

N/A (see HyperTransport spec and memory controller spec)

Packaging:
939-pin organic micro-PGA
Fab location:
AMD's Fab 30 wafer fabrication facility in Dresden, Germany
Process Technology:
90nm (.09-micron) Silicon on Insulator (SOI)
Approximate Transistor count:
154 million
Approximate Die Size
147mm

2

Nominal Voltage:
1.35v
Max Thermal Power:

89 W

Max Ambient Case Temp:
65 degrees Celsius
Pricing:
DUAL-CORE PRICING:
AMD Athlon 64 X2 3800+ = $354
AMD processor pricing web page:
http://www.amd.com/us-en/Corporate/VirtualPressRoom/0,,51_104_609,00.html
CPU-z:
Of course, being a newly released processor, CPU-Z will not recognize it, but will give you information about technology and support.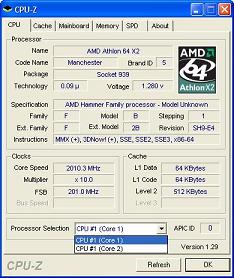 Click picture above for larger photo.