The AMD 64 X2
According to AMD the official specs of the Athlon X2 are as follows:
AMD ATHLON 64 X2 PROCESSOR TECH SPECS:
Frequency / Cache Sizes: 4800+ 2.4GHz w/ 1MB L2 cache-per-core
Frequency / Cache Sizes: 4600+ 2.4GHz w/ 512KB L2 cache-per-core
Frequency / Cache Sizes: 4400+ 2.2GHz w/ 1MB L2 cache-per-core
Frequency / Cache Sizes: 4200+ 2.2GHz w/ 512KB L2 cache-per-core
L1 Cache Sizes: Each core has its own 64K of L1 instruction and 64K of L1 data cache (256KB total L1 per processor)
CPU to Memory Controller: same as CPU core frequencies
Memory Controller: Shared integrated 128-bit wide memory controller
Types of Memory: PC1600, PC2100, PC2700 and PC3200 DDR memory
HyperTransport Links: 1
HyperTransport Spec: 2GHz (2x 1000MHz / DDR)
Effective data bandwidth: 14.4 GB/sec [8GB/sec x1 HyperTransport link + 6.4GB/sec memory bandwidth]
Packaging: 939-pin organic micro-PGA
Fab location: AMD's Fab 30 wafer fabrication facility in Dresden, Germany
Process Technology: 90nm (.09-micron) Silicon on Insulator (SOI)
Approximate Transistor count: 233.2 million
Approximate Die Size: 199mm2
Nominal Voltage: 1.35-1.40V
Max Thermal Power: 110 W
Max Ambient Case Temp: 65 degrees Celsius
Max Icc (processor current): 80A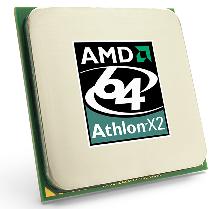 Its Interesting to note that the max thermal power is only 110W, we expected a greater increase in thermal output over the rating of the AMD 64 single cores which are rated at 89W, bumping the max thermal output by 21W is a small wonder in itself. Additionally the die size has only increased by 6mm2 from the AMD 64 single core cpu. The transistor count has more than doubled to 233.2 million from 105 million. Other than these spec changes the rest is very much the same as the single core AMD 64's. As a final note dual core for AMD retains a Socket 939 processor. This means that current socket 939 owners will most likely need only a bios update to use the X2 in the future. It seems clear the AMD has their users in mind and presents them with a clear upgrade path as they have the past. The Pentium Extreme Edition and Pentium D will both use a different unique socket eliminating any upgrade path to current LGA 775 users.
Pricing

AMD Athlon 64 X2 4800+ = $1,001 each
AMD Athlon 64 X2 4600+ = $803 each
AMD Athlon 64 X2 4400+ = $581 each
AMD Athlon 64 X2 4200+ = $537 each

As you can see the X2's will cost a small fortune as opposed to Intel's dual core's which will be brought to consumers at a price point that will be within $80 - $100 of their single core counterparts. This will help ensure lots of dual core sales for Intel and concurrently easy adoption by the masses. We're not sure if AMD's yeild of the dual core chips is so low that they must price them this high or if AMD is simply targeting a different market segment with this move. While we are making observations has anyone else noticed how recently Intel has become the budget processor? At a 200mhz and 512 kb L2 cache less per core difference between the 4800+ and 4200+ it's easy to foresee many users purchasing the 4200+ and 4400+ parts and simply overclocking them. If we were to make a guess at the future of consumers choice we would have to say that most consumers will be buying the 4400+ as it's less than $50 more than the 4200+ and comes with the extra cache.
For a look at how AMD positions this processor in their lineup click on the image below: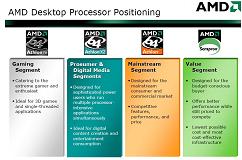 On to the test setup and performance tests.