Albatron Medusa Series
GeForce 4 Ti4280PV
Reviewed by Shadrach 12.17.2002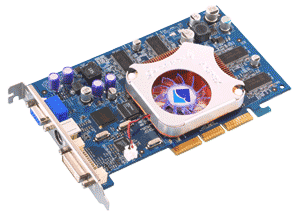 1984 - 2001
Albatron started out as Chun Yun Electronics, primarily as a display manufacturer, producing wide-screen multimedia monitors, rear projection systems, TVs, and plasma displays. Founded in 1984 to produce high resolution TV, this company should know a thing or two about producing quality video signal. In 1991, they began shipping 14" computer monitors, 17" monitors shipped by 1992. In 1994, the company was certified ISO-9002 international quality standard. The company came to the US in 1997 establishing an office in California and attained ISO-9001 international quality standard rating in 1999.
2002
The company changed its name to Albatron.
Throughout the nineties, Albatron produced high-end plasma displays, multimedia TVs and monitors, and rear projection display systems for corporate presentations and video conferencing. Our products are widely used in public information systems and the aviation industry.
"The start of 2002 saw the launch of a whole new range of products from our newly formed IT products division. The IT division comprises two teams; one for mainboards, the other for graphic cards. The graphic card team is already making roads into the highly-competitive graphics market. Spurred on by the ever-changing demands of the gaming industry, graphics R&D teams already had ten new cards to their credit in the first half of 2002." - Company profile
The company appears to have sound concepts of marketplace and a dedication to the end user market. Attaining ISO standard certification is no easy task. What is ISO you ask?.
"ISO 9000 is primarily concerned with "quality management". Like "beauty", everyone may have his or her idea of what "quality" is. In plain language, the standardized definition of "quality" in ISO 9000 refers to all those features of a product (or service) which are required by the customer. "Quality management" means what the organization does to ensure that its products conform to the customer's requirements." - from the International Organization for Standardization Website website.