EVGA e-GeForce 6800 GS 256MB PCI-E




Author:
Edward Chang
Date:
2005.11.07
Topic:
Video
Provider:
eVGA
Manufacturer:
eVGA








Introduction:
With more of ATI's X1000 series of video cards becoming available on store shelves this November, one can say Nvidia apparently crashed in on ATI's party by introducing their own arsenal of new video cards. Today, our spotlight is on Nvidia's newest weapon available in stores now: the EVGA e-GeForce 6800 GS. This article will also touch on another new EVGA video card, the EVGA e-GeForce 6800 XT, which accompanies the launch of the 6800 GS. So what exactly are these video cards and how do they compare against current ones? Read on to find out!
The Contenders: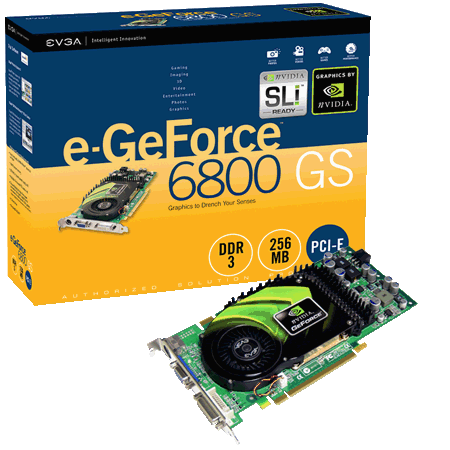 The main focus of today's review is EVGA's e-GeForce 6800 GS (P/N: 256-P2-N386-AX), based on Nvidia's NV42 chipset. The NV42 chipset has 12 pipelines, 5 vertex shaders, and a core/memory clock speed of 425MHz/1000MHz respectively. Thus, this essentially makes the 6800 GS an overclocked GeForce 6800 with a 30% boost in core speed and memory clock 43% higher.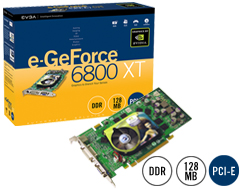 In other news, the 128MB EVGA e-GeForce 6800 XT (P/N: 128-P2-N367-TX) was quietly launched by EVGA in September and has finally arrived on the market. This is the long overdue PCI-E version of the former 6800 LE AGP video card as it shares the exact same specification: 8 pipelines, 4 vertex shaders, and core/memory clock of 325MHz/700MHz.
About EVGA:
Founded in 1999, EVGA has grown exponentially in the channel and became the #1 Nvidia Channel Partner in 2004. EVGA provides to system builders, distributors, and retailers video products that offer the highest quality and customer satisfaction, thereby making the computing experience transparent to the hardware in the box. EVGA only offers visual processing products based on NVIDIA chipsets and in year 2005 expanded its product line to include Nvidia NForce motherboards. Recently, EVGA has delivered the fastest and coolest GeForce 7800 GT CO and GTX KO video cards through their EVTweak initiative that supports the gamers, the tweakers, and the people who want to tweak and customize their video graphics experience. EVGA stands behind their top products with the industry's best Lifetime Warranty and 24/7 Telephone Technical Support. For further information, please visit EVGA online at www.evga.com.