Forsa Geforce FX 5200
Review by Jason Jacobs on 12.30.03
Power Supply Provided by Forsa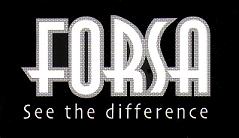 Introduction:
Forsa is a recent introduction to the American graphics card market. As many other manufacturers have already done, Forsa offers video cards that sport the Nvidia chipset. Currently Forsa offers 3D cards in each variety of Nvidia's series of chips in its lineup , from the TNT 2, all the way to the latest series of FX cards. In the Lab today we have the 5200 non-ultra for review.
About Nvidia FX:
The Nvidia FX series offers excellent graphics and surprising performance in a wide price range. In the last few years Nvidia has been the graphics market leader and offered the preferred graphics cards for both the enthusiast and the workstation. More recently Nvidia and ATI are in a battle for the performance lead. The Forsa Geforce FX 5200 non-ultra is situated at the very low end of Nvidia's graphic chip series and is marketed toward the budget buyer more than toward the avid gamer. That being said the Forsa Geforce FX 5200 still offers some amazing features for being a budget card.
NVIDIA GeForce FX 5200 Non-Ultra
- Graphic Core : 256-bit
- Core Speed : 250MHz
- Memory Configuration : 128-bit 128MB DDR
- Memory Speed : 400 MHz
- Memory Bandwidth (GB/Sec) : 6.4
- Bus Interface : AGP 8X
- Pixels per clock (peak) : 4
- Veticles/sec. : 63 million
- Fill Rate : 1.0 billion
- RAMIDACs (MHz) : 350
- Max Resolution : 2048x1536 @ 75Hz
- Monitor Support , Analog Monitor , HDB-15 connector , TV-out, S-Video , Digital Flat Pane l, DVI-I

Those with a keen eye will note that the 5200 non-ultra sports AGP 8x, a very high max resolution, and a full compliment for choice of outputs. For a budget card its looking pretty good.
Lets take a closer look.
Shopping Matches for Nvidia FX 5200 Graphics Cards: