The Competition
Lets take a look at the 9800pro in comparison to two other Nvidia cards. The top card shown here is the Forsa Geforce FX 5600; beneath that is the PowerColor 9800pro, and lastly the Albatron 5900 Turbo. As you can see, the 9800 pro is a mid-sized card. The common problem with the 5900 ultras, as illustrated with the bottom card, is that they take up an additional PCI slot underneath the AGP slot. This is not the case with the 9800 pro.
Each of these cards was tested in 3Dmark 2001 and 3Dmark 2003.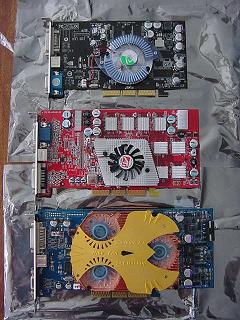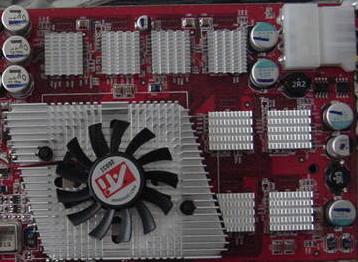 For comparison, the 9800pro was tested against the following cards:
1. Forsa Geforce FX 5200
2. Forsa Geforce FX 5600
3. PNY Geforce 4 TI4600
4. Albatron 5900 Turbo
Now because numbers speak louder than words, lets move on to the results..
Shopping Matches for Powercolor Radeon 9800 Pro 256 Mb: