Author:
Mike Santini
Date:
2008.06.30
Topic:
Editorials
Provider:
Dell
Manufacturer:
HP
Dell and HP Gaming
Many gamers prefer to build their own gaming rigs to ensure they have the latest and greatest, but many gamers don't have the time or know-how to do this. So they turn to manufacturers like Dell and HP to get what they need. Today, I am going to compare what the two companies offer in terms of high-end gaming. The contenders are Dell's large line of XPS desktops and HP's new Blackbird 002. I'm not physically comparing these systems, just looking at the differences and seeing who offers the most for the money and best performance. Again, this is a strict stat for stat comparison.
Hewlett Packard:
Hewlett Packard comes to the floor with a slightly different approach. HP doesn't have the many models that Dell has and instead has one high-end model, the Blackbird 002. This is a new machine from HP featuring a unique design that reminds me of an accordion only cooler. The Blackbird 002 offers 3 cooling solutions similar to the XPS 730. The Blackbird 002, which is the standard air cooled model, the LC which has a liquid cooled CPU and the LCi which has a liquid cooled CPU and GPU; they start at $2299, $3499, and $5999 respectively. The Blackbird 002 also allows for custom overclocking using their Voodoo BIOS. Unlike the Dells, the Blackbird comes standard and you have to overclock it yourself.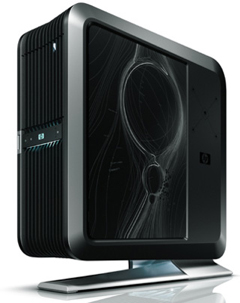 The Blackbird 002 offers a wide range of components as well. They offer from an Intel Core 2 Duo E6750 to an Intel Core 2 Extreme Quad QX9650; up to 4GB of Corsair PC2-8500 DDR2; up to 2 GeForce 8800 ULTRAs or ATI RADEON HD3870 X2; an AGEA PhysX 100 Accelerator card; and up to 5TB of internal storage.
On their website, they mention AMD FX processors as well, but I don't see them when I try to configure a machine so I can't tell you their offerings.

Real Time Pricing: