CES 2008 Coverage Spotlight: ThermalTake

Kick-ass Cases
Is there any other way to say it? Thermaltake makes a bunch of unique products to fit the DIY crowd out there. You guys know that's you, so sit back, fasten your seatbelt, and enjoy the ride.
When we first dropped by the Thermaltake booth at CES this year we were greeted by the official Thermaltake Hottie and Thermaltake Babe. No Joke I can't make this stuff up.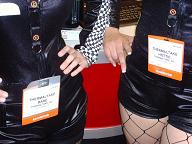 Click on the Thumbnail for a Larger Image.
Hint: You want to click on this one!
On display were the new Armor and Armor + cases as well as a slew of their other products. We are still awaiting the programmable LED fans which we previewed and brough to you at Computex 2007. We've been assured that they will be available to you guys in the USA. Thermaltake is starting to sell cases which are available now on their site with slide back tops and included watercooling kits. All aluminum cases and little unique features like pop up media card readers, sliding tops, extra cooling fans, and optimized internal layouts are a few of the perks that Thermaltake touts above many of its competition.
In the end, though, Thermaltake has to be known for its style which is rather unique in the industry and includes red highlights, a focus on cooling, and lots and lots of bling. Did we mention they shove an LED into just about everything? Hey TT guys, your booth babes don't light up, you missed a chance!
We got to see a sample of a skinned PSU that they have in mind for the HTPC crowd though we can see them skinning a lot of other products in addition. Lets get flames on that PSU and bullet holes. Here is your chance to be heard as they want to know what you guys think on this one. Shoot me off an e-mail and I will get all of your responses to them.