CoolMax CU-950B Power Supply

Author:
William Halstead
Date:
2009.02.17
Topic:
PowerSupply
Provider:
CoolMax
Manufacturer:
CoolMax

Packaging
| | | |
| --- | --- | --- |
| | | |
| Box front | Box back | Box side 1 |
| | | |
| Box side 2 | Box opened up | Box contents |
With this model, CoolMax has elected for minimal white packaging, with a green leaf motif to emphasize the environmental friendliness angle. The specifications sheet on the back is clearly laid out, giving the feature list and input current requirement, as well as maximum power draw (in Amperes) on each rail. The side panels go into some detail about the EU's Restriction on Hazardous Substances, or RoHS for short. In keeping with the Green theme, the CUG-950B is fully RoHS compliant, which means that the presence of toxic substances like lead, cadmium, mercury, and CFCs is minimized or eliminated. Opening it up, we're greeted with the power supply, the manual, and a pair of boxes. The large white box contains the ATX, SATA, EPS12V and Molex cables. The smaller black box contains the AC wall cord and a quartet of mounting screws.
The manual deserves special mention here, as it is significantly better than the average we have seen. Most power supply manufacturers throw together a shameful little black-and-white affair with the absolute bare minimum of information, usually printed in six or eight languages. CoolMax has instead given us a four-color glossy affair, with plenty of illustrations and information on the cabling, connectors, and everything else you need to know to get started. Kudos to CoolMax for putting in the extra effort where it counts. For consumers this means an easier installation, no confusion over cabling, and easy access to the infomation you need at any point.
A Closer Look
Looking at the back of the PSU, the portion that will be exposed by the case, we see a variation on a very familiar theme. Most of the back is covered in a thin honeycomb grille, which serves to maximize airflow while keeping the more dangerous bits safely enclosed, and away from incautious fingers—or screwdrivers. The only features otherwise are the 3-pin AC socket and master power switch.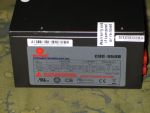 Looking to the side, we see yet another familiar sight, the on-device spec sheet. Also notable in this shot is the finish of the unit itself. Eschewing flashiness for practicality, the CUG-950 is coated in a matte black finish that resists fingerprints and gives you a solid grip while manhandling it into place.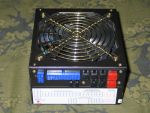 Looking at the front and bottom of the PSU, we see both the large 120mm intake fan, and the modular cable connectors. The front panel includes a helpful diagram that labels each connector by type, which is a boon for long term use. The connectors are further differentiated by colored plugs, each color indicating where its attached cable is supposed to go: blue for mainboard connectors, black for drives and peripherals, red for PCI-E power connectors.
CLICK FOR REALTIME PRICING ON THE COOLMAX CUG-950B