CoolMax CU-950B Power Supply

Author:
William Halstead
Date:
2009.02.17
Topic:
PowerSupply
Provider:
CoolMax
Manufacturer:
CoolMax

Installation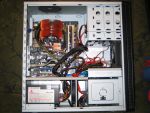 Installation was extremely simple, requiring Your Humble Reviewer only to select the appropriate cables, attach them on the device end, and thread them through the divider to the PSU compartment. From there, the supply-end connectors snapped in place easily, and the whole affair was slid into place and screwed down. As you can see, the case used for this review is modular, with the primary hard drive bay and PSU compartment separated from the main area. This reduces thermal load on the PSU, as it is not required to evacuate waste heat from the CPU or GPU. The downside, as the photo makes apparent, is that the PSU's compartment is relatively cramped, making effective cable management a challenge. In this case, the modular cabling of the CUG-950B was a great boon, allowing me to leave out the un-needed cables entirely, instead of having to find out of the way places to cram them.
The cables themselves are sleeved in black mesh tubing, secured at each end by heat shrink wrappers. This keeps the cables neat and organized without losing any flexibility, which can help in the search for the arrangement that provides maximum airflow to the components that need it. The color-coded plugs are equipped with quick-release latches where appropriate, enabling quick component swaps without the worry that anything will come loose while the system is being moved about.
Testing
Testing was performed with the following system:
| | |
| --- | --- |
| CPU | Intel Core 2 Duo E4600 2.4GHZ |
| Motherboard | ASUS Commando |
| RAM | Corsair XMS2 DDR2 800 (2 x 1GB) |
| Video Card #1 | Sapphire Radeon HD 4830 512MB |
| Hard Drive 1 | Seagate Barracuda 7200.7 SATA-I 160GB |
| Hard Drive 2 | Seagate Barracuda 7200.10 SATA-II 320GB |
| Hard Drive 3 | Seagate Barracuda 7200.11 SATA-II 500GB |
| Optical Drive | Sony NEC Optiarc DVD+/-RW |
| Case | Antec P180 Black |
Testing was done under Windows Vista Ultimate 32-bit, with CPUID's HWMonitor keeping track of voltages. Additionally, readings were taken with a multi meter at every step, to verify the BIOS readings. For taking readings under load, Stress Prime 2004 Orthos Edition and Half Life 2: Lost Coast's stress test were run simultaneously for 30 minutes.
| | 12V DC | 5V DC | 3.3V DC |
| --- | --- | --- | --- |
| Start Up (BIOS Reported) | 12.24 | 5.23 | 3.31 |
| Start Up(Measured) | 12.14 | 5.19 | n/a |
| Idle (Bios Reported) | 12.27 | 5.22 | 3.31 |
| Idle (Measured) | 12.20 | 5.17 | n/a |
| Load 30 Min Avg (BIOS Reported) | 12.27 | 5.22 | 3.31 |
| Load 30 Min Avg (Measured) | 12.20 | 5.17 | n/a |
| Shutdown (Measured) | 12.25 | 5.22 | n/a |
As you can see, voltages were rock solid and within spec across the board. Especially impressive were the readings on the 3.3v rail, which remained absolutely steady even under heavy load. Historically only used for the motherboard, the 3.3v rail now comes under additional load from SATA drives, which can put a heavy peak load on that rail if multiple drives are engaged at the same time. The 12v and 5v rails, while experiencing a bit of fluctuation, stayed well within the +/-5% variance allowed by the ATX 2.2 spec.
During the whole testing period, fan noise never exceeded the noise floor. In plainer terms, it was dead silent, even with an ear pressed to the back exhaust grille! Your system may make noise, but this PSU won't be the culprit.
Thoughts and Conclusion
While testing this power supply, I was struck by the level of polish. From the helpful, well-written manual to the organized and clearly labeled component boxes, the packaging was consistently high quality. The unit itself reflects this polish, with clear, consistent labeling and superb cable management through the modular plug interface.
CoolMax has a reputation for quality products, and the CUG-950B certainly does not disappoint. Aiming itself at the environmentally-conscious power user, the CUG-950B hits the mark. Its Nvidia SLI certification means you can be sure you'll have enough juice for a multi-GPU rig, even with a fast, power-hungry CPU. Combining rock-solid performance with whisper-quiet operation and an attractive price point ($150, NewEgg.com), this is one power supply that I can recommend without reservation to anyone with a need for a reliable, high-output device.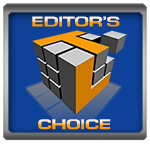 OTHER RELEVANT REVIEWS
CLICK FOR REALTIME PRICING ON THE COOLMAX CUG-950B