Abit AirPace Wireless Audio Device

Introduction:
For those music lovers out there who have collections of MP3s that dwarfs the library of congress and would like to hear them on their home stereo which is located on the other side of the house there is a solution that does not include dragging wires from your PC to the stereo. ABIT has given TechwareLabs their wireless music solution named the "AirPace". The AirPace is a Wireless Audio Device with built in Access Point," gives you the ability to send audio from your PC through the AirPace wireless access point to your home entertainment system or similar device. The AirPace is Abits competitor to Linksys' audio bridge.
Features:
From a wiring standpoint the AirPace is quite simple to setup giving you the option of using standard coaxial input, Digital, or analog connections to your stereo or even headphones. There is a connection for the LAN input from your existing router or wired signal. Taking this entire concept one step further requires only a bit more knowledge and hardware to make your entire network system wireless. Essentially the AirPace could be a central part of your network located near your normal wireless router while your PC and other hardware operates completely free of wires.

The AirPace has an RJ-45 port for configuration or continual use, set of coax (RCA) ports, Line-out, and an Optical port.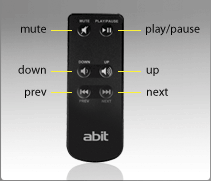 The Airpace also comes with this small remote (2.4" X 1" X 1/8th" in size) giving you remote management of what is being sent from your PC to the stereo.
The hook up of the AirPace to your home audio system can not get any easier. With several options of how to send the audio, the toughest thing about the install will be deciding how you will send the audio to your stereo. Of course, if you have the optical port, TechwareLabs recommends using it as optical will use only one cable and provide the cleanest sound.
Specifications: (From Abit)
Model Name
WAD-01B
Product Description

Wireless Audio AP
Network Standard

Wireless: IEEE 802.11b/g, Wi-Fi compliant
Ethernet: IEEE 802.3, IEEE 802.3u
Audio
Proprietary wireless audio protocol
Dimension
120mm x 71.8mm x23.5mm (Body w/o antenna)
Weight
118g
WLAN Specifications
Frequency Range
2.4 GHz ISM radio band
Number of Channels

| | |
| --- | --- |
| 802.11b: | USA, Canada and Taiwan – 11 |
| | Most European Countries – 13 |
| | France – 4, Japan – 14 |
| 802.11g: | USA and Canada – 11 |
| | Most European Countries – 13 |
| | Japan – 14 (OFDM is not allowed) |

Output Power
802.11g: typical 15dBm +/- 1dBm
Antenna
1* 2.4GHz dipole antenna
Receive Sensitivity
802.11b: typical -83dBm at 11Mbps
802.11g: typical -70dBm at 54Mbps
Operating Range
AP: Open Space: ~300m ; Indoor: ~100m
(The transmission speed may vary according to the environment)
Data Rates
802.11b: 1, 2, 5.5, 11Mbps
802.11g: 6, 9, 12, 18, 24, 36, 48, 54Mbps
Security
●WEP 64-bit and 128-bit encryption with H/W TKIP processing
●WPA (Wi-Fi Protected Access)
Audio Specifications
Audio Spec
Support 48k KHz sampling-rate and 16bits resolution
S/P DIF Signal-to-Noise Ratio (SNR) 90dB(Digital)
S/P DIF THD+N 89dB(Digital)
Frequency response 5Hz - 22KHz
Others
Operating OS
Windows XP for PC
Power
5V DC, 1A
LEDs
5*LEDs, including Power/Status/WLAN/LAN/Audio
Connector
1*Power Jack
1*S/P DIF
1*Stereo Jack
2*RCA
1*RJ45
1 Reset button