Razer Barracuda: HP-1 Gaming Headset
Razer Barracuda: HP-1 Gaming Headset

Introduction:
Razer, the world's leading manufacturer of high-end precision gaming and lifestyle electronics peripherals, has given us the opportunity to review their Barracuda. The Razer Barracuda is a 5.1 channel surround sound headset. We have seen how well Razer has performed in the past with their superior technology, but how will they perform with their new gaming headset?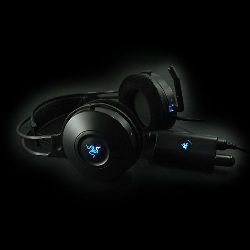 Razer's Take:
"The Razer Barracuda HP-1 Gaming Headphones features eight discrete audio drivers to enable pinpoint positional accuracy essential for gaming. It features advanced noise cancellation capabilities and a built-in microphone designed specifically for in-game communications — ideal for frenzied in-game communication."
Packaging:
The headset comes packaged in a rather stylish box. Located on the front of the box is a picture of the headset and the name on a reflective surface. The front panel of the box lifts open which allows you to see the headset itself. On the back there is a features and specifications list. Overall the box is very well designed and just by looking at it you can tell it is a high-end headset.
Contents:
HP-1 headphones
Detachable microphone
Audio splitter
Getting started guide
Certificate of Authenticity

Features:
True In-Game Surround Sound for Enhanced Positional Audio
A 5.1-channel surround audio enables accurate positional audio in game play.
Optimal Sound Quality with Dedicated Drivers
Expect better sound quality with three dedicated mid/high frequency drivers and a low frequency woofer for each ear.
Audio Clarity with Built-In Amplifier
Hear better and louder audio with a built-in amplifier in gaming and music environments.
Specifications:
Razer Fidelity™ gaming audio engine
Eight discrete drivers (six for mid-high frequency, two for sub-woofer)
Six-channel analog input
Individual volume controls: front, rear, center, bass and master
Detachable uni-directional noise-cancelling microphone
Razer High Definition-Dedicated Audio Interface™ (HD-DAI™ connector)
2m cable
Audio Characteristics (Headphones)
Frequency response: 50~20,000Hz
Impedance:
- Front speaker: 64Ω
- Rear speaker: 32Ω
- Centre speaker: 64Ω
- Sub-woofer: 8Ω
Total power rating: 330mW RMS
Audio Characteristics (Microphone)
Frequency response: 50~16,000Hz
Sensitivity: -58 ± 2dB
Impedance: 2.2KΩ
System Requirements
HD-DAI or USB port
PC with audio output (5.1 or higher audio recommended)

Mic input required for voice communications