SanDisk Sansa Clip 1GB MP3 Player
SanDisk Sansa Clip 1GB MP3 Player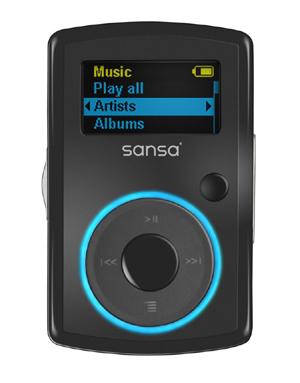 Our friends at SanDisk have graced us with another remarkable product - the 1GB Clip MP3 player. This product boasts such features as a 15 hour battery life, FM tuner, and the ability to delete songs straight off of the unit. No more embarrassing Spice Girls songs playing on shuffle while out with friends!
SanDisk's take on the product:
"Sansa ® Clip is a sleek and wearable MP3 player with a removable clip. It also has a built-in microphone, a FM radio and a 1.0" display screen. You can listen to FM radio broadcast (if applicable). Additionally, you can enjoy a built-in microphone for recording voice. The Sansa ® Clip comes with a built-in rechargeable battery will last up to 15 hours."
Packaging and Contents:


• Sansa ® Clip player
• Earphones
• USB 2.0 Cable
• Quick Start Guide
Features: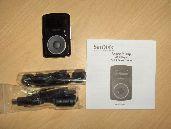 • Digital Audio Player – supports MP3, WAV, WMA, secure WMA, and Audiobook files.
• FM Radio (if applicable) – includes an integrated FM radio for listening to livebroadcast FM radio programs.
• Voice Recorder – supports voice recording function with built-in microphone.
• EQ effect – you are able to select an EQ mode to personalize your music experience.
• Internal Memory – allows users to store data on the internal memory.
• Works with most subscription services using WMDRM10.
Sansa Clip at a Glance (from Sandisk.com):
1 Display window Display the information and status here
2 Left/Previous/Rewind Press for previous track, rewind, or move left
3 Select Button Press to select the item
4 Down/Submenu Press to move down or to options menu
5 Right/Forward Press for next track, fast forward, or move right
6 Up/Pause/Resume Press to move up one item, pause, or resume
7 Menu Return to the Main Menu
8 MIC Built-in microphone
9 Earphone Port Connect earphones here to listen
10 Volume Up Turns up the volume
11 Volume Down Turns down the volume
12 Hold/Lock Factory sets to locked position (shows orange color). Slide to center position for controls. When locked, all controls are disabled to prevent accidental activation of controls.
13 Power/Reset
14 USB Port Plug USB cable here to connect to the computer
15 Clip The removable clip accessory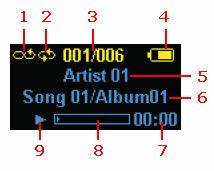 1 Shuffle Indicate that the Shuffle function is enabled
2 Repeat Indicate that the Repeat function is enabled
3 Current/Total Tracks Display the current track number and the total number of tracks
4 Battery Indicator Display the battery status
5 Artist Name Display the artist name
6 Title/Album Display the song title and album name
7 Play Time Display the elapsed time
8 Progress Bar Display the progress of the current track
9 Play/Pause Display the music or recording files playback status
Testing:
We tested the SanDisk 1GB Clip MP3 Player by comparing it to an iPod nano. Information for the iPod was taken from the following sites:
| | | | | |
| --- | --- | --- | --- | --- |
| Tested Function | iPod Nano | Sansa Clip | Explanation | Winner |
| Number of Buttons | 6 | 9 | More buttons means more confusion, but it's nice to be able to adjust the volume without scrolling through song lists. | Sansa Clip |
| Video Quality | 2" diagonal | ~1" diagonal | Bigger screens are always easier to read, and the iPod nano has an QVGA screen, compared to the Sansa Clip's OLED screen. | iPod Nano |
| Battery Life | ~24 hours | ~15 hours | Longer battery, longer jamming out | iPod Nano |
| Capacity | up to 8GB | up to 2GB | If capacity is an issue, the iPod nano will hold way more songs, but if physical size is an issue, go with the Sansa Clip | tie |
| Pricing | $149 for 4GB | $39 for 1GB | Who doesn't like cheap? If you want an mp3 player to strap on your arm and take to the gym, the Sansa Clip is the way to go. If you're looking at the price per gigabyte, the iPod nano wins hands down. | tie |
| Features | video, games, stopwatch, calendar, contacts | FM radio, voice recording, song rating system, delete songs directly off of device | Again, if you're bored, watch iPod's videos, play games, run around the block and time yourself with the stopwatch. If you need to take voice recordings, like to listen to the radio, or want to get rid of unwanted old songs with the click of a button, go with the Sansa Clip. | tie |
Conclusion: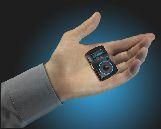 While the SanDisk Sansa 1GB Clip MP3 Player took on the iPod in our tests, the results depend on the consumer. From a personal standpoint, the Sansa Clip is a fantastic $40 investment to take to the gym and throw in a backpack. If it breaks, you've only lost $40. The iPod would be better off on trips, with its videos, games, and longer battery life, but that's $150 you're dishing out.
The Sandisk Sansa is a fantastic device and is one of the best I've seen on the market today for its intended purpose. Its cheap, portable, and easy to use. I recommend it to all who are looking for their next MP3 player.