Antec Twelve Hundred Gaming Chassis
Antec Twelve Hundred Gaming Chassis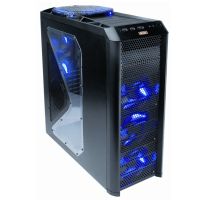 Introduction
With Antec's new Twelve Hundred, Antec is attempting to market a successful follow up to their wildly popular Nine Hundred gaming case. The Twelve Hundred makes numerous design improvements and sports 3 more bays than its smaller predecessor. Antec designed the Twelve Hundred with gamers in mind, the case sports a stylish black finish and blue LED fans. The first thing you will notice about this case is how large and heavy it is - it's big. Antec spared no features and set their goals high with the Antec Twelve Hundred. Let's see how they did.
Features
12 Bays for drives: Plenty of room for all those extra hard drives.
Perforated front bezel: Allows 3 fans to pull air through the front.
Washable air filter: All the intake fans have a dust screen in front of them to keep your case clean.
7 Expansion slots: Plenty of room for SLI/Crossfire and anything else you would need.
Top mounted I/O ports: 2 USB, 1 eSATA, and HD audio in and out.
Here's box the case came in.

| | |
| --- | --- |
| Front of the box | Back of the box |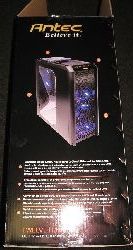 Side of the box


Here is the case as a whole, not plugged in, courtesy of Antec
| | |
| --- | --- |
| | |
| Angled view | Top view |
| | |
| Side view | Back view |
Specifications
Detailed specifications courtesy of Antec:
| | |
| --- | --- |
| Formfactor | ATX or smaller |
| Dimensions | 22.9" (H) x 8.4" (W) x 20.2" (D) |
| Power Supply Location | Bottom |
| 5.25 Inch Bays | 3 |
| 3.5 Inch Bays | 9 |
| Intake Fans | 3 x 120 mm |
| Exaust Fans | 2 x 120 mm and 1 x 200 mm |
| Expansion Slots | 7 |
Real Time Pricing: