Antec 900 Advanced Gaming Case

Along with creating some of the best power supplies and accessories in the computer industry, Antec's name is perhaps best known for their stylish yet functional cases for computers. Some of their well known cases are the Sonata, the P160W known as the Anodized Aluminum Super Mid Tower , the Plus-View II and the Super LanBoy have maintained their edge in the high performance cases. Today we look at their latest powerhouse named the Antec 900.
The Antec 900 case is built for maximum cooling with a perforated front bezel, three 120mm fans with mounts for even more fans, and a monster top-mounted 200mm fan. The case comes in the classic black finish. The modular design lets you modify the placement of the front fans and hard drive cages.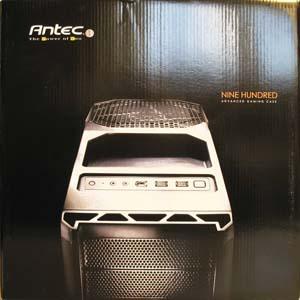 Front of box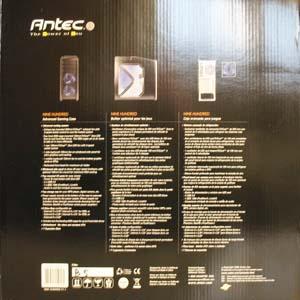 Back of box
Upon receiving the case, let me just say we were very impressed with the method that Antec packaged this Gamer Case. Rather than being packed just within a plain cardboard colored box, the Antec is shipped within a plain cardboard container that houses the beautiful case in the images above and below. The case is further isolated from being damaged within the case via the foam case holders within the box that suspend the case and protect it from impacts during shipping. The outside of the case is covered with the most beautiful pictures of their latest offering with full specifications on the backside of the box.