Antec P182 Case

Introduction:
The friends at Antec have sent TechwareLabs another great PC case for us to review called the P182. The Antec P182 case is designed for the gamer that is looking for computer case on the high-end of the spectrum. The case is designed around the concept of sectioning out the different areas of a computer case in order to isolate the different components into their own fresh air compartments. The Antec P series is their performance lineup which often includes many features and extras that their regular enclosured do not have. The P182 builds on the features of the P180 case and adds:
External fan controls

A Special Gunmetal Black finish

Cable Organizers

Rubber Grommeted Ports for an External Radiator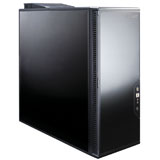 Specs:
• Attractive gun metal black finish
• Dual chambers structure: The power supply (not included) is located in the lower chamber to isolate heat from the system and lower system noise
• Special three-layer side panel (aluminum, plastic, aluminum) dampens system-generated noise, making this one of the quietest cases available
• Material: 0.8mm cold rolled steel for durability through the majority of chassis, 1.0mm cold rolled steel around the 4x HDD area.
• 11 Drive Bays
- External 4 x 5.25"; 1 x 3.5"
- Internal 6 x 3.5" for HDD
• 7 Expansion Slots
• Cooling System:
- 1 rear 120mm TriCool Fan with 3-speed switch control (standard)
- 1 top 120mmTriCool Fan (standard)
- 1 lower chamber 120mm TriCool Fan (standard)
- 1 front 120mm fan (optional)
- 1 middle 120mm fan (optional) to cool the VGA
• External fan control on the rear panel for the top and rear fans in the upper chamber
• Motherboard: up to Standard ATX (12" x 9.6")
• Double hinge front door designed to open up to 270º
•Rubber grommeted ports on the rear for liquid-cooling tubes allow you to mount external liquid-cooling hardware
• Front-mounted ports provide convenient connections:
- 2 x USB 2.0
- 1 x IEEE 1394 (FireWire®, i.Link®)
- Audio In/Out (HAD & AC'97)
• Silicone grommets in the hard drive cages to absorb vibrations and reduce noise
• Built in washable air-filter • Case Dimensions: 52cm (H) x 21cm (W) x 51cm (D)
21.3" (H) x 8.1" (W) x 19.9" (D)
As you can see the P182 is loaded with standard features and includes several options for fan placement. Let's take a closer look at this case.