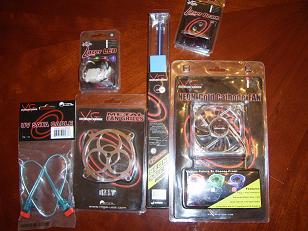 Intro
There are many products on the market today to up the bling factor of your box. The crew at MGE sent TWL a few products to review for them. They include the 80mm fan grill with the biohazard logo, UV Sata Cable, blue cathode tube, 80mm fan with UV tape to light it up, lazer LED, and a laser beam. All of these products are pretty much designed to up the bling affect of you box. So with the brief intro, lets go take a look at each one.
Starting off with the Neon Cold Cathode' Fan, there is three colors to choose from (Red, Green and Blue). TWL has the blue one to review. The case fan is a standard 80 X 80 X 25mm fan with cold cathode' tape that emits neon blue that is noticeably brighter then other neon fans TWL has reviewed. This package comes with fan, grill and mounting screws. The brightness of this fan will definitely bring some attention to your case. The one difference of this fan is the cold cathode' tape power is they are completely independant of each other. This gives you the ability to plug the fan into the motherboard for monitoring purposes (if your motherboard supports it) as appose to pluggin the fan directly into the power supply.
| | |
| --- | --- |
| Size: | 80 x 80 x 25mm |
| Air flow | 32.5 CFM |
| Speed | 2700 RPM |
| Noise | 28.3 dBa |
| Voltage: | 12 VDC |
| Power | 1.6W |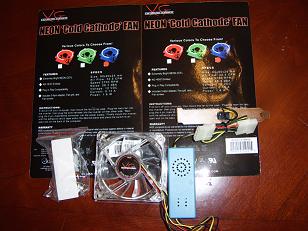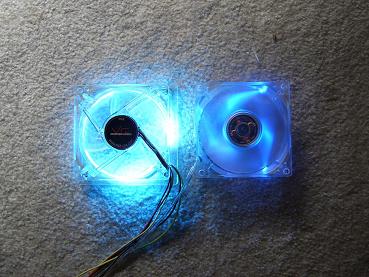 Side by side with a competitors LED fan, you can clearly see the cold cathode' tape is much clearer and brighter. The tape lights up all the way around the fan evenly, as with the LED fan is only able to light up where each LED is. The cathode' tape is the way to go if you have a 80mm fan that is on display in your case.