SilverStone SST-TJ05 Temjin 5
Review by Matthew Homan on 7/30/04
Reviewed system provided by Sundial Micro

Introduction:
Sundial micro has kindly sent us the Silverstone SST-TJ05 case for review. The SST-TJ05 Temjin is quite a sight with its automotive high-gloss finish and extra-deep design for dual-processor motherboards. All of you dual opteron fanatics can rejoice, as this case should be big enough to accommodate those boards.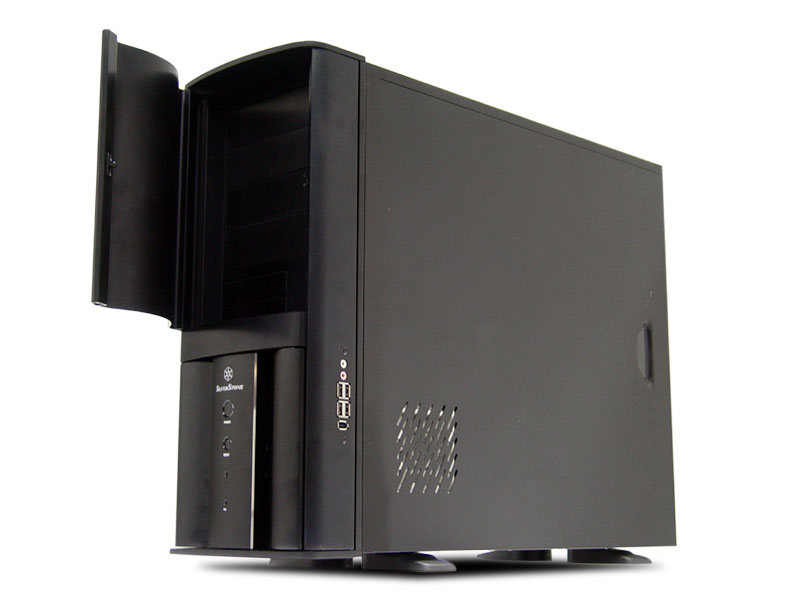 Just a quick look at the case and its specifications tells a lot about the intended purpose and usefulness of this design. This is a very large case that is not only tall, but also long. The front panel and fascia is made of milled aluminum while the rest of the case is steel. The internal structure is a completely tool-less design that screams of good cooling and airflow. The official specifications are listed below:
Specs & Dimensions:
Material:
Aluminum Front Panel 0.8 SECC Body.
Motherboards:
Extended ATX / Standard ATX / Micro ATX
Color:
Silver and Black
Drive Bay:

(Exposed)5.25" X 4 and 3.5" X 2
(Hidden) 3.5" X 8

Cooling:
Front 120 x120 x 25mm x 2 (2200rpm) 21dBA (intake)
Rear 120 x 120 x 25mm (2200rmp)21dBA (Exhaust)
Left side 80mm x 80mm fan (optional) x 2
Right side 80mm x 80mm fan (optional) x 1
Expansion Slots:
7
Power Supply:
Optional Standard PS2 Power Supply
and redundant PS2 Power Supply
Additional:
USB 2.0 ports x 4, IEEE 1394 x 1, MIC x 1
Net Weight:
13.4 kg
Dimensions:
200mm (D) x 502mm (H) x 590 (W)
Now lets take a look at the outside and overall features.