Thermaltake Bigwater 760i
Thermaltake Bigwater 760i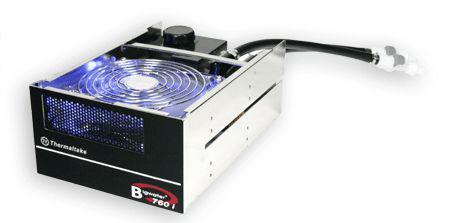 The guys at Thermaltake are spoiling us again. This time they sent us the new Bigwater 760i Liquid Cooling System. It's an all-in-one system designed to reduce the need to have tubes running everywhere. Less tubes means less joints means less leaks right? The system fits into a 2x5.25" bay, and uses the front as an intake for cold air, which cools the small radiator inside.
Anatomy of a liquid cooled system:
The standard liquid cooling system involves six main parts: the reservoir, the pump, the tubes, the radiator, the fan, and the water block.
The reservoir is a tank that holds the excess liquid, allowing bubbles to escape the system, but not enter. It also provides additional fluid in case some evaporates over time. In most systems the reservoir also servees as the priming and filling port.
The pump is obviously a pump. It provides the liquid a means of flowing through the system. It's usually 12V DC powered and fits a certain sized tube, depending on it's inside diameter, or ID.
The tubes connect the essential parts to each other, and have an inside diameter (ID) and outside diameter (OD). Standard tubing size is 1/4", 3/8", 1/2", 5/8". There are different grades of tubing that are used in water cooling systems which usually have to do with less kinking of the tube when bent. Larger ID tubes are definitely more difficult to work with and organize in a case but they also provide the most water flow and least pressure.
The radiator is a maze of metal tubing channels connected to thin metal fins which pull heat from the tubes and thus the water. Standard sizes for water cooling radiators meant for PC use are 80mm and 120mm, with some going as large as double or quad 120mm.
The radiator is attached to a fan, which provides air flow over the metal fins, thus cooling the liquid inside.
The water block is a metal block with water channels carved inside, typically made of copper attached to your CPU. It is seated like any other CPU cooler, but the tubes run the cold water over the CPU instead of air.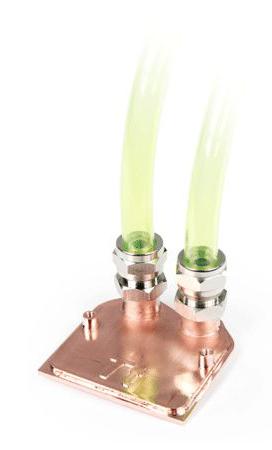 What's in the box?
| | | |
| --- | --- | --- |
| Front | Side | Back |
| Contents with cooler | UV tubing and coolant | water block and connectors |
Click on a Thumbnail for a larger Image
The Bigwater 760i comes with the main unit (reservoir, radiator, fan, pump), manual, maintenance guide, coolant, tubing, quick connectors, CPU brackets, water block, screws, and easy fill bottle. You may notice that the coolant and the tubing are the same color, thus no worries of the coolant dying the tubing a different color. Thermaltake has included CPU mounting brackets for all of the most popular sockets including, AM2, K8, 775, and P4.
Specifications:
P/N
CL-W0121
2U Bay Drives
Dimension
232mm(L) X 148.6mm(W) X 85mm(H)
Weight
1.3(kg)
Application
CPU
AMD AM2 series
AMD K8 series
Intel LGA775
Intel P4
Water Block
Material
All copper designed
Dimension
58mm(L) X 58mm(W) X 35mm(H)
Quick install connector
For 9.5mm ID (3/8") tubing
Weight
311(g)
Pump
Dimensions
75(L) x 70(W) x 75(H) mm 
Bearing
Ceramic bearing
Maximum Capacity
500 L/ hr
Rated Voltage DC
12V
Input current

600 mA
Connector
4 pin
Noise
16 dBA
Life time
80000 hr (MTBF) 
Radiator
Dimensions
153(L) x 120(W) x 28(H) mm
Material
Aluminum
Tube Design
Aluminum, Dimple
Fin Design
Aluminum, Louvered
Quick install connector
For 9.5mm ID (3/8") tubing
Fan
Fan Dimension


120(L) x 120(w) x 25(H) mm
Fan Speed
1600~2400 RPM
Rated Voltage
12V
Noise
16 ~20 dB
Life Expectancy
40,000 hr
Connector
4pin
Liquid Tank
Dimensions
72.4 (L) x 70.5(W) x 69.4(H) mm
Capacity
130 c.c
Quick install connector

For 9.5mm ID(3/8") tube
Tube
Dimensions
9.5mm ID(3/8") tube
Material
Green UV
Coolant
Capacity
500 c.c
Major Material Ingredient
Ethylene Glycol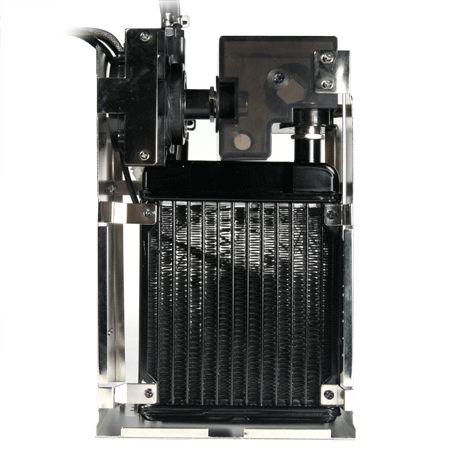 Features:
Dual 5.25 Drive Bay design: liquid cooling system in-a-box to save the space in the chassis and simplifies installation
Mesh design front bezel enhances ventilation
Easy to install and refill.
12cm Motorsports Radiator :

1. DTT - Dimple Tube Technology swirls the coolant within the radiator to increase thermal transfer.
2. An all-aluminum radiator featuring expanded outer fins and tube style for maximum performance.

Slim Pure Copper Waterblock:

1. Micro-Channel Design within the waterblock maximize the thermal efficiency
2. Advanced Brazing technology improves reliability and leakage free
2. Advanced Brazing technology improves reliability and leakage free
3. All-in-one mounting design supports all latest CPU from Intel & AMD. (Includes: Intel Socket LGA775 and AMD K8/AM2.)

Ultra-low noise fan: silent variable fan with blue LED (1600 ~ 2400rpm).
High-performance Liquid Pump:

1.Silent and powerful P500(500L/hr) pump provide superb reliability
2.The ceramic bearings significantly extend the life-expectancy of the pump.


Quick connector:

1. Quick Disconnect Coupling: Valves shuts off water flow immediately when dismantling to prevents water leakage
2.User friendly Quick Install Connector saves you time and energy.

Durable 3/8" Tube: Special material to prevent wear & tare from being clogged up or over bending.



Installation:
Thermaltake has reduced the installation of the Bigwater 760 to 5 easy steps:
1. Install Waterblock
2. Install the main unit
3. Connect the tubes
4. Fill coolant
5. Power on the system
While we find that they are correct, we would advise installation in a slightly different order. Liquid cooling systems can be very finnicky. If there is one leak, even if it's a drop every 4 hours, your system needs to be drained and taken apart. I would suggest following the steps OUTSIDE of the case. Open up some newspapers on the floor. Put the system together. Fill it. Use the Techwarelabs How to Hotwire a Power Supply guide and plug in your system.
I would let this run for about 3 hours. Thermaltake makes very nice connectors, but three hours of testing is worth 10 hours of frustration. This also allows you to tip and turn the system, getting all of the air out of the lines and crevices, which makes a tighter, more efficient system.
Once this is done, slide the entire system through the 2x5.25" bays, attach the water block, and power it on. I followed Thermaltakes instructions for assembling it inside the case, but wound up dismantling it because I couldn't get the air out. The pictures are from the assembly in case.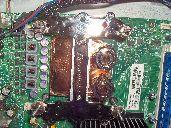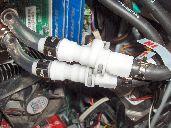 I suggest using a wrench to tighten the connectors between the tubing and the water block. There aren't any dimples on the connector, and I wanted to make sure it wouldn't come loose. I then put the quick disconnectors on the tubing, forgetting about the metal clamps that go on them. I had to unscrew the wrench tightened connectors and try it again. After this was done, the quick connectors snapped in tightly.
The next step was filling up the reservoir: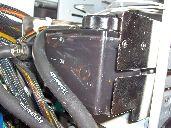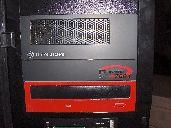 After filling up the reservoir, turn it on with the hotwired power supply and and let the liquid flow into the system. Do this a few times, moving the unit around so the air gets out. I had to fill the reservoir three times.

Testing:
Time to put the side panel back on and let it rip!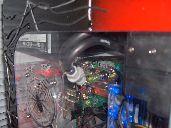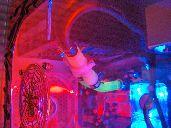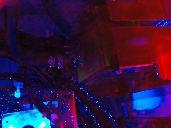 If you're loving the UV green look, make sure you have a good UV cold cathode from Xoxide.com
for your system. I didn't even use the UV tubing, that's just the liquid you're seeing. The system looks fantastic and runs nicely. I did run into one small problem however. Thermaltake claims the pump runs at 16-20dBA, and mine has a loose rattling that is very annoying. This noise is negligable compared to the three other case fans, but is still a bothersome feature. The system also does not cool as well as my previous liquid cooling system, which was a system comprised of individual parts.
My processor is overclocked from 1.86GHz to 3.21GHz, and gets very hot. The old system kept it at 44C idle, 48C on load. This system idles at 48C, 53C on load which we should mention is still a very good temperature for a single in bat ready to install solution. The Thermaltake Bigwater 760i is not meant to be a performance system and instead is meant to be an easy to install reliable system that provide good performance.


Conclusion:
At $159.99 from Xoxide.com
, the Thermaltake Bigwater 760i Liquid Cooling System is a good purchase if you aren't nursing an extreme overclock and just want a system whose tubes will stay out of the way. For those of you who need the finest in cooling, look into getting a system with individual parts. The Bigwater was easy to put together, looks easy to clean, and best of all, it's from Thermaltake.