LapWorks Futura Laptop Desk
LapWorks Futura Laptop Desk
Introduction:

As most people with laptops already know, laptops can get extremely hot and become uncomfortable on your lap. Many people I know place a pillow or something between their lap and the laptop, this is a bad solution to the problem. A pillow conforms to bottom of the laptop, preventing the hot air to escape from the laptop. This results in parts overheating, which reduces the lifespan of the device. LapWorks Inc., the market leader in ergonomic and heat reducing laptop desks, has recently released their Futura model. We here at techwarelabs have been given the pleasure of reviewing and testing this new release.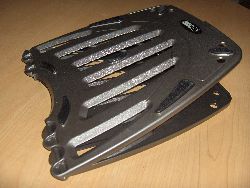 About LapWorks:

LapWorks is a design and manufacturing company located in Rancho Cucamonga, California. They specialize in products that make working with your notebook safer, easier, and more productive. These are products that:
Improve posture/ergonomics
Reduce heat build-up in notebooks and
Protect a user's lap from the heat that radiates from the bottom of notebooks.
At LapWorks, they also aim to provide value-added servies, resources and timely information to help their customers better understand:
How to use a notebook computer in an ergonomically-correct manner to promote long-term health and avoid injuries.
How to care for a notebook computer to promote its long-term health as well.
LapWorks invented the wide-span portable lap desk product category in 2001, and is the only company making dual-purpose lap desks that double as desktop stands.
Packaging
The LapWorks Futura comes in a large zip lock bag with the futura inside. Im not sure if this is the actual packaging that is normally shipped with the futura or not, but this is how i recieved it.
Features:
Improves your ergonomics
Reduces notebook heat & cools your lap
Dual purpose lapdesk and desktop stand
Lightweight and compact in size
Folds for easy storage
Rubberized surface keeps notebook from sliding
Specifications:
Size: 11x11x.5 inches folded
Weight: 16.25 ounces
Material: Grey ABS Plastic (Will be available in colors upon release)
Stationary Application
| | |
| --- | --- |
| Feature | Benefit |
| Ventilation Slots | Cool air enters from beneath the Futura forcing the hot air out and reducing the notebook's heat build up. |
| Super Gripping Rubber Pads | Anchors the computer to the desktop preventing slipping, sliding and accidental bumps. |
| Positionable Support Arm | Lets you select from 5 ergonomically comfortable typing angles increasing productivity and reducing back and shoulder strain. |
| Elevates Screen Height by 3-3/4" | Raises the viewing screen closer to eye level cutting down on neck & shoulder strain. |
Mobile Application
| | |
| --- | --- |
| Feature | Benefit |
| Gripping Rubber On Both Sides | Grips the computer and grips your clothes to prevent accidents and costly downtime. |
| Spans the Lap Completely | Allowing the legs to relax apart in an ergonomically comfortable position without stress or tension. |
| Prevents HOT LEGS | By allowing heat to escape more efficiently, hot spots don't develop preventing the dreaded hot leg. |
| Super Light Weight | Weighs 16-1/4 oz. adding alittle heft to you carrying case and overall load. |
| Futuristic Design | An oval-burst shape differentiates the Futura's chic design as it stands proud over any competitor. |
| Compact Size | Folds down to ½"slim profile taking up little space in carrying case. |
| Impact Absorber | When stored in the carrying case, the hollow interior absorbs impact protecting the computer. |
| Heavy Duty Hinges | Prevent sagging maintaining an absolute flat work surface. |
| Extremely Durable | Made from High Impact ABS plastic-it is UV inhibited color fast and won't separate. |
| One Year Warranty | So strong, it will last a lifetime. |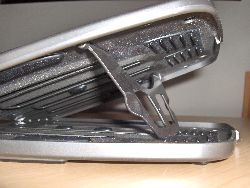 Testing

For testing this device, I started to use the device in the fully opened position while sitting on the couch. The product felt as if it were well designed. When fully open it wasn't pliable as I originally thought it would be. The plastic it is made of is heavy duty and will stand up to almost all conditions.
After using the laptop for an hour it seemed to be pretty stable and working well, also I was rather surprised that my legs weren't hot like they would have been without the lap desk. While using the laptop I used a program to test the temperature of the system, the difference between using the lap desk and not was only by a few degrees.
When placing the lap desk onto a table in the closed position it will lift the laptop up roughly half an inch. But when placing a larger size laptop on the desk, it will tend to wobble from the desk only being 11 inches wide with a laptop around 17 inches.
Conclusion

Overall the Lap Desk Futura seemed to be a nice accessory. For only being priced at $29.99, it is something that you can easily place in your carrying bag and tote around with you where ever you go. Lapworks has several laptop desks which can be found here.The durability and versatility of this particular product is also a huge benefit for thkind of use this product will be exposed to.