Corsair XPERT TWINXP1024-3200XL

| | |
| --- | --- |
| Author: | Thushan Fernando |
| Date: | 2005.11.11 |
| Topic: | Memory |
| Provider: | Corsair |
| Manufacturer: | Corsair |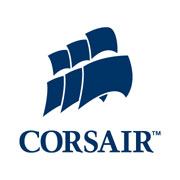 Corsair is synonymous among the enthusiast community for delivering high-octane RAM that never fails to impress, with very low-timings and some unique features added to give that extra grunt. Last year I reviewed the Corsair 3200-XLPRO (XMS PRO) which was one of the first units made by the new ultra-low-timing Samsung chipsets. Not only did the 3200-XLPRO come with low-latency timings of 2-2-2-5 but also had something that set it apart from the crowd - and something for those with viewable side cases to show off - real-time RAM Activity LED monitoring. The Activity LEDs would flicker every time the system decides to make use of the RAM and can really be seen to its full potential at LAN parties when your fragging away and your Corsair units are maxed out on RED.
Internally, the unit was a lot cooler thanks to the way Corsair engineers made use of the aluminum heat spreaders that were specially made and 'glued together' for maximum efficiency.
Today we're taking a look at the 3200XL model and compare it to the 3200XLPRO.