DYMO LabelWriter Twin Turbo

Author:
Ilya Tsunayev
Date:
2009.02.04
Topic:
Miscellaneous
Provider:
DYMO
Manufacturer:
DYMO

Introduction
Let's be honest: no one likes to wait in lines, especially at a post office. It's just not an exciting place to be. We'll do anything to avoid the whole ordeal of going to the local post office to send a letter or package. DYMO's LabelWriter Twin Turbo provides an alternative. We like to do things from home, and the LabelWriter allows you to print over 40 types of labels including postage, thus freeing home and business users from ties to the post office. DYMO also provides software through which to purchase postage (e.g. stamps) online and print them without hassle. Sound like a good option? We will test the truth behind the claims that it can print 55 labels per minute and that it eliminates the hassle normally associated with trying to print labels on a conventional printer.
DYMO's Take: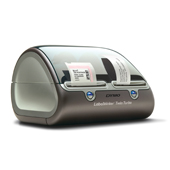 Twin Turbo offers the ultimate in efficient labeling technology -- with two spools that let you breeze through a range of labeling tasks, without switching rolls. Compact, quiet Twin Turbo is especially helpful for large-batching printing (it automatically starts the second roll, when first roll is finished) and for printing our new acclaimed, no-monthly-fee DYMO StampsTM postage labels alongside address labels. To find out more about DYMO StampsTM, click here.

Like all LabelWriter models, Twin Turbo prints high-resolution labels for envelopes, packages, files, media, name badges and more -- directly from Microsoft® Word, WordPerfect®, Outlook®, QuickBooks®, ACT!® and other software. To save you money, Twin Turbo uses no ink or toner. To build your reputation, it prints professional-looking labels every time, with your favorite fonts and graphics (up to 2 ¼" wide - 56 mm). The speed? About one second per label, 55 labels per minute -- up to 1000 at a time, if needed.
Features & Benefits
Laser-quality 300dpi for professional results and speed - about one label per second, or up to 55 labels per minute(4-line address label).
Advanced thermal technology needs no ink or toner, ever!
Compact and versatile - holds two label rolls.
Connects easily to USB port.
Eliminates the hassle of printing labels with a standard office printer.
Eliminates wasted trips to the Post Office – and wasted postage – with DYMO Stamps

TM

software, included free.
Two label rolls available at all times – ideal for efficient printing of DYMO Stamps

TM

labels alongside address or shipping labels, and for large batches (with automatic switching between rolls).
Silent, direct thermal printing means you never need ink or toner, just easily-loaded DYMO label rolls.
Super-fast printing: 1 second per label, 55 labels per minute.
2 rolls of labels available at all times. If using the same labels on both rolls, software automatically switches from one roll to the other if first roll of labels runs out.
High resolution printing means crisp text, graphics, photos and bar codes.
Includes easy to use DYMO Label Software that makes it simple to design labels and manage address books.
Includes add-ins for instant printing from Microsoft Word, Outlook, QuickBooks, ACT!, Goldmine, Palm Desktop version 4 or later, WordPerfect® and more. LabelWriter also prints from other programs through standard print drivers.
Includes FREE DYMO Address Fixer

TM

, a unique software utility that automatically checks any address in Word, Outlook or the DYMO Label Software against the US Postal Service database, fixes errors and adds the 9-digit, ZIP+4 code to ensure faster and accurate mail delivery.
Easy to share over your Windows or Apple Macintosh network.
Includes the DYMO Software Developers Kit (SDK). The SDK lets you develop support for the LabelWriter into your custom application in minutes. Includes tools for all major development languages.
PC and Mac compatible.
REALTIME PRICING ON THE DYMO LABELWRITER TWIN TURBO