ASUS Striker II Extreme Motherboard
ASUS Striker II Extreme Motherboard
A Closer Look:
After unpacking the ASUS Striker II Extreme Motherboard from its packaging, we take a closer look. Below, we see the backpanel of the motherboard, which includes:
a PS/2 keyboard plug
6 x USB ports
Dual gigabit LAN jacks
2 x eSATA plugs
an IEEE 1394a plug
a clear CMOS switch
and S/PDIF and optical output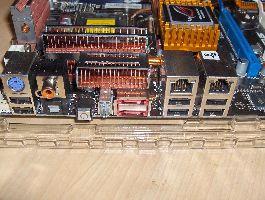 Below we see our 3 x PCI-Express slots, as well as 2 x USB inputs, an optional fan, and our battery. The two blue PCI Express x16 slots will support PCIe 2.0 devices. The Southbridge can be seen off to the right of the picture. In our second picture, we can get a good look at the onboard power and reset buttons, as well as the spot for the Q-connector and optional case fan.
Coming around the corner, we can see the southbridge again, along with our front-panel plugs, our 6 x internal SATA connectors, IDE, and Floppy connector. We can also see our Fusion block and DIMM slots off to the right.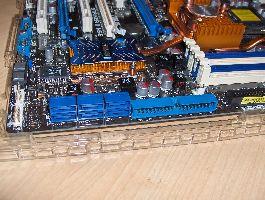 Around the other corner, we can now see all four DIMM slots. The different colors indicate Dual-Channel capabilites.We can now get a good look at our 24-pin power connector, as well as the CPU cover, Fusion block, and upper heatsink.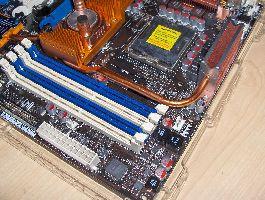 Ah, now we have a good picture of our Fusion Block. Take note of the ROG logo on the left. This lights up via that small 2-pin power plug off to the left. If the light gets too bothersome at night, this can be unplugged. It can also be set to "off" in the BIOS. We'll come back to liquid cooling using the Fusion Block later.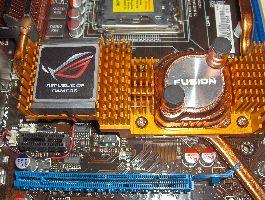 Now we're at the upper portion of the motherboard, and can see the 4-pin CPU power plug, as well as the plug for the LCD poster.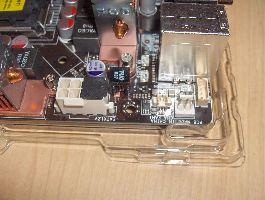 Here we can get a good look at the Southbridge. They really went overboard on making it look nice, and I must say they've done a great job. All of the added slits help keep it cool as well.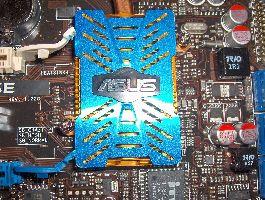 This is our final picture which shows the entire heat-pipe loop. Note that it covers the northbridge, the southbridge, and two parts near the processor. This is connected with the Fusion Block, allowing us to liquid cool the loop.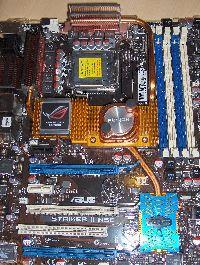 Real Time Pricing: