Asus W5Fe SideShow Enabled Laptop
Introduction to Asus:
While Asus is not as well known in the United States as are other brands of notebooks ,however, they are well known and widespread in the European and Asian countries. Asus is currently well known for its motherboard and video cards in the United States but what is not known is that Asus is the #1 producer of motherboards world wide with more than 59 million units shipped last year. Asus tests and refines all of its product lines to ensure quality and reduced occurances of RMA's.
Asus notebooks are the most popular brand in asian and european countries due to the quality of design, level of customer service, and superior warrenty to most other brands. We expect to see more exposure and availability of Asus notebooks in the future as their superior design and engineering is sure to gain influence over consumers. Today we bring you the W5Fe Sideshow enabled laptop which made headlines at CES 2007 for being one of the first laptops to support the new Windows Vista Sideshow.
I had the opportunity to purchase a laptop directly from Asus while we were in Taipei for Computex 2007. A large part of the reason for purchasing this laptop was the failure of our main travel laptop the M1210 which had suffered an internally cracked screen. It should be noted that during our issue with the M1210 Dell offered no assistance and assigned the fault to us even though the outer layer of the screen was clearly not cracked. It took several calls to get the issue resolved which did not occur before the end of Computex. The Asus notebooks were appealing for several reasons:
24 month global warrenty (more on this later)
Excellent Design and Form
Sturdy Construction
Wide Support Base
Excellent Customer Support
The purchase of the W5Fe included an Asus branded laptop bag (re-branded Targus) which perfectly fit the W5Fe, a small neoprene laptop case which fit into the larger laptop bag, and an Asus branded wireless Bluetooth mouse (Logitech re-branded). I felt like we were getting a complete package and was really impressed with the quality of all the accessories. While I was in Taipei I needed to get the keyboard switched for a fully English keyboard which meant a trip to the nearest service center. Our swap of the keyboard took an hour of our time and the technicians and representatives at Asus were always polite and quick to help. Several times I was asked if I was completely happy and if there was anything else they could do to help me. I cannot say the same for the service at Dell.
What is Sideshow?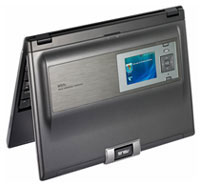 Sideshow is what Microsoft is calling their software which allows components and information from within windows to be displayed on an external display that can range from a small green LCD to a full color display such as the one integrated into the W5Fe. Sideshow operates very similar to the Sideshow requires configuaration within the Vista Operating system and cooperates with hardware to bring data to the display which can be updated upon demand. Currently the support for Sideshow is very lacking with only 16 gadgets total being available through Microsoft. It should be noted that the issues with SideShow are not any fault of Asus and are completely issues with Microsoft's support of its own software.
The W5Fe Specifications:
Processor & Cache Memory

Intel® Merom™ Processor T7200, FSB: 667MHz, 4MB L2 Cache

Chipset

Intel® 945GM Chipset

Main Memory

512MB + 1024MB DDR2 667 MHz SDRAM (Total 1.5GB)

Display

12.1" WXGA + Active matrix TFT(1260x768)

Auxiliary Display

2.8" QVGA Side-Show display (320x240) w/1G Nand Flash

Optical Drive

8x SuperMulti Drive

Card Reader

MMC, SD, MS, MS-Pro, xD, mini-SD, MS Duo via adapter, MS-Pro Duo via adapter

Interface

1x VGA port/Mini D-sub 15-pin
3x USB 2.0 A ports
2 Audio jack: headphone-out/Mic-in
1x Lan RJ-45
1X Phone RJ-11
1x 1394
1x TV-out (S-Video/Composite Video)

Dimension & Weight

12" * 8.6" * 1.2" (W x D x H) &
2.86Lbs

Battery Pack & Life

Li-Ion 26.6WHrs (3 cells: 2400mAh)+ Li-Ion 53.2WHrs (6 cells: 4800mAh)
charging time: 2 hrs quick charge/4 hrs (System On) to 100%

LED Status Indicator

Power-on/Suspend
Battery Charging/full/low
Storage Access
Wireless indicator
Bluetooth Status
Capital / Scroll / Number Lock

Operation System

Genuine Microsoft® Windows® Vista Home Premium

Video Graphics & Memory

Intel Int. 950 GMA Graphics

Hard Drive

2.5" SATA 160GB (5400rpm)

Audio

Built-in Azalia compliant audio chip w/3D effect & full duplex,
Built-in speaker and microphone

AC Adapter

Output: 19V DC, 3.42A, 65W
Input: 100— 240V AC, 50/60Hz universal

Video Camera

1.3M Megabyte Pixels

Fax/Modem/
LAN/WLAN

Integrated Azalia compliant MDC fax/modem and 10/100 Base T.
Integrated 802.11a/b/g.
Built-in Bluetooth™ V2.0+EDR(optional).

Keyboard

Ergonomic Keyboard: 83 keys

ASUS Utility

ASUS Live Update
ASUS Power4Phone
ASUS Screen Saver
ASUS Splendid
ASUS Power4 Gear+
ASUS Active Update

Warranty & e-support

2-year limited global hardware warranty
1-year battery pack warranty
30 Day Zero Bright Dot warranty
On-line problem resolution through web interface (BIOS, Driver update)
OS install/uninstall consultation
Bundled software install/uninstall consultation
ASUS software supporting
As you can see the W5Fe is very well equipped and at 2.8 pounds it is one of the lightest 12" laptops around.