Corsair Padlock USB Flash Drive
Corsair Padlock USB Drive

Portable and Secure Storage:
Most users are familiar with USB drives as their use has become sidespread and common especially with younger consumers. Many times these drives are the repository for sensitive files and data that you do not want others to have access to. Security has been limited to file encryption which still allowed the potential for that data to be compromised. This leaves us with a need to secure our data on these devices in a more secure manner, enter the Corsair Padlock.
The Corsair Padlock aims to secure your data via a PIN number which not only adds a layer of protection to accessing your data but also serves to sever the use of the drive entirely on a hardware level and thus making the drive unavailable to those who do not know the 1 to 10 digit key. Enter the wrong key and the computer will not even see the drive. It will not appear in device manager nor in the system. Makes hacking a software encryption slightly difficult if you cant even access the drive.
Savvy users will doube protect themselves and encrypt their data on the drive regardless. Can you say "ACCESS DENIED!" Let's take a look at this very Inspector Gadget like product.

An Overview:
The drive is operated through the use of 6 main keys on the face which serve to enter your code, lock and unlock the drive. The presence of 3 LED indicators informs you of several things.
Bad PIN Number/Locked Status
Unlocked Status
Transferring Data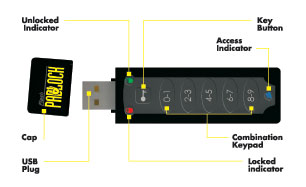 Corsair ships the drive with very thorough directions which take a user step by step through the process of locking down access to the drive and entering in a PIN for all future use. Corsair even offers users a method to store their PIN on the Corsair site should you be worried about losing the PIN number. All that is needed is your name, and e-mail address.

The entire device operates off of a non-user replacable internal battery which we found does not reset the device is removed. If you lose your PIN and cannot access the device Corsair even offers its users a way to RMA the drive for a new one (minus your data of course).
Testing:
Our Test Machine Consisted Of:
Dell D630 Latitude
2.5GB DDR2 667 RAM
200GB 7200 RPM Hard Drive
Windows XP Home SP2
USB 2.0 Ports

A few issues cropped up on ours during testing.
The cap easily becomes loose and can be lost.
If the drive is not locked down properly the PIN can be reset potentially giving someone access to your data without having to enter the access key.
The drive is physically larger than most others which means plugging it in obstructs the use of adjacent USB ports.
Speed:
We used HD Tune to test out the Corsair Padlock and found that while there are faster drives availabe it's speed is adequate for a USB 2.0 drive.
As you can see the device transferred data at a maximum rate of 16.2 MB/sec with an average of 15.6 MB/sec. This is ok for everyday use while some users will desire more speed most will find that its fast enough for their needs.

Take into consideration that you have a device with an added layer of hardware security which may be responsible for the slight slowdown.
Conclusion:
If your a computer user with a need to protect your files for transport in a way that ensures that even if the drive is lost your data is secure then the Corsair Padlock may be a good option for you.
We are happy to award the Corsair Padlock the Editors Choice Award.