Thermaltake Max 4 Active Cooling HDD Enclosure
Thermaltake Max 4 Active Cooling HDD Enclosure


Our good friends at Thermaltake have been analyzing the problems that come along with a hard drive - heat. The answer? The Thermaltake Max 4 Active Cooling HDD Enclosure. We examine this remarkable product and test the beast.
What's in the box?
The Thermaltake Max 4 comes with the enclosure, AC adapter, USB 2.0 cable, eSATA cable, eSATA PCI adapter, stand, manual, and driver CD. It is nicely packaged and has a clean look to it.
Features:
Including 80x80x15mm blue LED silent fan.
Supporting eSATA & USB2.0 interface - the best performance & convenience.
Application for 3.5" SATA HDD.
LED for power and disk activity.
Made by Aluminum body for thermal solution.
Easy stand.
Transfer speed up to 3Gbps(eSATA); 480Mbps(USB 2.0)
Specifications:
P/N
N0012USU
Case Type
3.5" SATA HDD
Fan Type
80x80x15mm Fan
Weight
425g
Dimension
215x134x30mm
Material
Aluminum & Plastic
Interface
SATA to eSATA , SATA to USB2.0
SATA compatibility
SATAII、SATAI
Transfer rate
Up to eSATA-3Gbps & USB2.0-480Mbps
Power Source
1) External Universal Switching Power Adapter (12 V 2.0A/5V 2.0A)
2) UL, FCC, CE, CSA Certified
Accessories
eSATA external Cable
USB2.0 Cable
SATA to eSATA PCI bracket
Power Adapter

Foot Stand
Fan Dimension
80x80x15mm
Current
0.16A
Voltage
12V
Fan Speed
1500 RPM
Noise
20 dBA
Appearance:


(a) MAX4 serigraphy.
(b) Aluminum case.
(c) Vent holes design.
(d) LED light.
(e) USB 2.0 high speed port.
(f) eSATA port.
(g) Power port.
(h) Power switch.
(i) Foot stand
(j) 80x80x15mm Fan
Installing the Hard Drive:
Installing the hard drive was not very difficult. Four screws are removed from the casing, and the door slides off.
From here you'll notice a few things. First, there are black "sliders" on the sides which keep the hard drive in place. This seemed like a good idea, but it wound up being a lot of trouble to tighten down. The second thing is this - instead of plugging cables into the drive and risking breaking the housing, the hard drive is placed into the case, and slid into the power and data plugs.
After all the screws are tightened down, the hard drive is now secure and ready to be tested.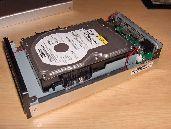 Testing:
We installed a SATA hard drive of ours and tested the transfer rate compared to a normal hard drive with USB 2.0 and with eSATA. We then checked the temperature of that compared to a normal hard drive. While the USB 2.0 speed was only a little bit faster, the eSATA transfer rate was almost double! After the transfer was complete, We took the hard drive out. The drive was warm, but not even close to a dangerous temperature.
Gallery and Images:
Conclusion:
The Thermaltake Max 4 Active Cooling HDD Enclosure is a great buy. With it's 80mm blue LED fan, sturdy support, eSATA capability, and good looking enclosure, it is a must for all people wanting to back up their data. The Max 4 is available for approximately $40 from online retailers.