Corsair 32GB Voyager Flash Drive
Corsair 32GB Voyager Flash Drive
Introduction:
TechwareLabs has tested several different storage devices in the past ranging from NAS to external hard drives and flash drives to RAID. Consistently we continue to recommend flash drives for affordability and high portability. Today we are testing the Corsair Voyager drive weighing in at a whopping 32GB of storage. Corsair makes two versions of the Voyager, the standard Voyager and the Voyager GT which boasts a speed boost of up to 4x faster than average USB drives according to Corsair. We are testing the standard Voyager which is available in capacities ranging from 2GB to 32GB. The Voyager GT is available in 16GB only and is rated for faster transfer rates though we were unable to find specifications for this drive on their website.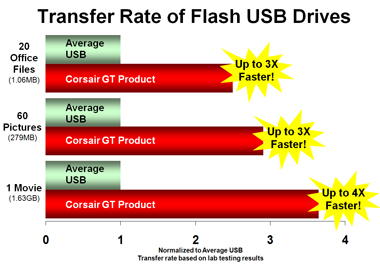 What can I do with 32GB?
Good question, and the answer is: A lot! At 32GB of storage the Voyager has more storage space than some 2.5" hard drives and is large enough to store nearly anything you want. The average DVD movie will easily fit on a 4.7GB DVD drive, as such the Voyager would easily accomodate 6 full DVD movies and still have room leftover. See the chart below:
How Much Can I store?

Format
2GB
4GB
8GB
16GB
32GB
Still images: JPEG 6MP
620
1240
2480
4960
9920
Video: MPEG-2 5Mbps-30fps
50 min
1hr 40 min
3hr 20 min
6hr 40 min
13hr 20 min
Video: MPEG-4 384kbps -15fps
9hr 30 min
19hr
38hr
76hr
152hr
Music: MP3 128kbps
500
1000
2000
4000
8000
As you can see 32GB is a lot of space. Unfortunately what we have traditionally run into with flash drives is the larger they get the slower they get. This leads to long loading time when transferring information to and from the drive. We hoped that the Voyager would not be prone to this problem, read on for our testing.
Features
Plug & Play functionality in Windows® Vista, XP, 2000, ME, Linux 2.4 and later, Mac OS 9, X and later

Includes the True Crypt security application (Windows Vista/XP/2000 compatible only) allowing for a virtual encrypted drive using AES-256 encryption (not preloaded on 2GB models)

Lanyard, USB cable

Limited 10-year warranty
The Corsair Voyager is an average size drive encased in durable rubber housing and are supposed to be water resistant. The graphics on their site show the drive being submerged in water. This may not be a realistic representation of what the drive can survive as it is not waterproof but water resistant. The cap does not seal out water entirely so if you attempt this and then attempt to plug the drive into a usb port you will likley encounter a short circuit.
Let's move on to testing the Corsair Voyager.
Real Time Pricing