Klipsch iFi iPod Speaker System

| | |
| --- | --- |
| Author: | Tom Jones |
| Date: | 2005.11.30 |
| Topic: | Audio |
| Provider: | Klipsch |
| Manufacturer: | Klipsch |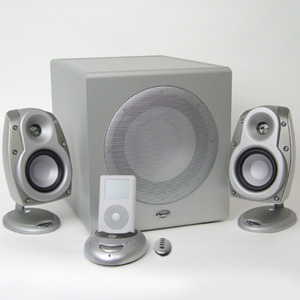 There are more than 1,000 accessories made specifically for Apple iPod. The iPod economy has flourished with over 21 million iPods sold and a wide range of companies creating products ranging from high-end fashion cases to automobile integration kits to speaker systems for iPod. One of those speaker systems is made by Klipsch and it's the best iPod speaker system we have ever heard. It is also the most expensive iPod speaker system we have ever heard.
Engineered to maximize the Apple iPod and iPod Mini listening experience, the Klipsch iFi system is a plug and play setup that fits almost anywhere and in any type of environment. This 2.1 configuration comes equipped with two unobtrusive and amazing sounding Klipsch Reference Series RSX-3 satellites, a powerful dedicated subwoofer, docking station and RF remote control.
Available in a silver finish that nicely complements Apple hardware, the stylish Klipsch iFi also allows the iPod to charge as it plays so listeners can enjoy their favorite songs without interruption. By using a third party IR receiver and Klipsch-distributed ZON input module, the iFi can also be connected to whole-house audio systems. And to add icing on the cake, the iFi can serve as your computer speakers as well.
With a MSRP of $399.95, the Klipsch iFi is the most expensive iPod speaker system we have tested to-date. However, it's also the best sounding iPod system we have ever tested. If sound quality is your number one priority, then you definitely want to check this sound system out.