Logitech diNovo Mini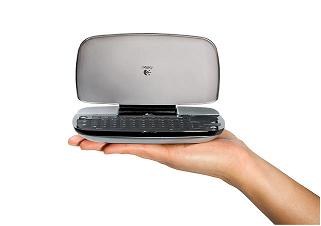 We have a new product to review from Logitech, maker of desktop peripherals since being founded in 1981 in Switzerland. Computers are moving into every facet of our lives including the living room. It's expected that 12 million of these media center computers will exist by 2010 according to an Analysis and Forecast done by Parks Associates. This time around we're reviewing the Logitech diVono Mini, a palm-sized keyboard, mouse and media remote control designed for use with an Entertainment Center PC. So if you've ever connected a PC to your TV you may be interested in this product.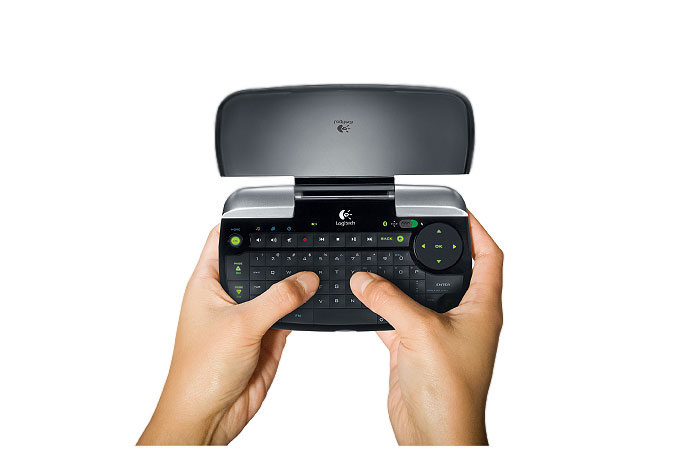 Overview:
Let me tell you this product is exactly what I've been looking for and I was excited to get the chance to review it. I've had a PC connected to a flat panel TV for a while now and have been looking to replace the media remote that came with the PC. (see GMC Noblesse Review ). The DiNovo Mini is perfect. It allows me to browse the internet, watch TV and video, listen to music, check email, etc. all from the couch. Don't try to play Call of Duty 4 with it, but everything else works.
What's in the box?
DiNovo Mini
USB Mini Receiver
CD-ROM with SetPoint Software
Power Supply
Rechargeable Lithium-Ion Battery
Cleaning Cloth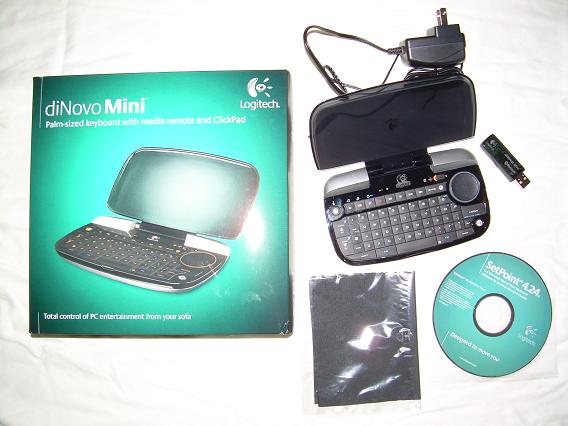 Features:
Palm-sized mini-keyboard that fits in your hand

Integrated, dual purpose ClickPad that can be used like a laptop touchpad or as a directional pad for navigating menus

Rechargeable lithium ion batteries that last up to a month

Bluetooth wireless technology that provides up to 30 foot range

Backlighting that makes entry and navigation effortless even when the lights are out and includes two backlighting modes

Media-Remote Mode with green backlighting acts as a media center remote

Cursor Mode with orange backlighting for when the Mini is in keyboard / mouse mode
Specifications:
System Requirements:

PC with Windows® XP or Windows Vista®

USB Port

his product is compatible with PLAYSTATION®3.

Technical

Specifications

:
25 mm (.98-inch) dual-purpose ClickPad. Works as a touch pad

Thumb-operated keypad design

63 backlighted keys

Backlighting for two modes—orange for touch-pad mode, green for media-center remote

Ambient light sensor measures current available light and turns off backlight

Troy gloss silver with midnight black design

Dedicated Windows Media® Center button

Range: up to 10 m (33 feet)
Connectivity

:

Bluetooth® 2.0 wireless technology

Point-to-point technology pre-paired with DiNovo Mini keyboard

Power and Battery

:

30 days (battery life)

Full-charge: Takes about 4 hours

Fast-charge: Takes about 10 minutes for 1 day of use

950 mAH lithium-ion battery

Dimensions and Weight:

152 mm by 90 mm by 27.5 mm (cover closed) (5.98-inch by 3.5-inch by 1.08-inch)

152 mm by 152.8 mm by 65 mm (cover opened) (5.98-inch by 6-inch by 2.55-inch)

170-175 g (with battery and receiver) (5.99 – 6.17 oz)

59.5 mm by 18.5 mm by 9.1 mm (receiver size) (2.34-inch by 0.73-inch by 0.36-inch)

7 g (receiver weight) (0.25 oz)
Real Time Pricing