On Demand Internet Access
One of the most unique qualities supported by the 4ipnet HSG260-WTG2 Wi-Fi Hotspot Kit is its ability to use QR codes for on demand internet access. This capability allows easy and immediate access to the internet via a scanned QR code. Users with tablets or mobile devices that support QR scanning such as most android tablets and all iPhone/iPads will be able to simply scan a printed QR code and get access.
As 4ipnet describes the feature:
The unique feature allows operators or guest to login automatically by scanning the QR Code on the on-demand account ticket printed from 4ipnet's POS Printer PRT200. The feature used any QR Code scanner on most smart, mobile devices.
Elderly or non tech savvy users can sit down in your cafe or business and gain access without having to configure their wireless or enter an access code. The method is secure and easy to use thus adding value to your customers.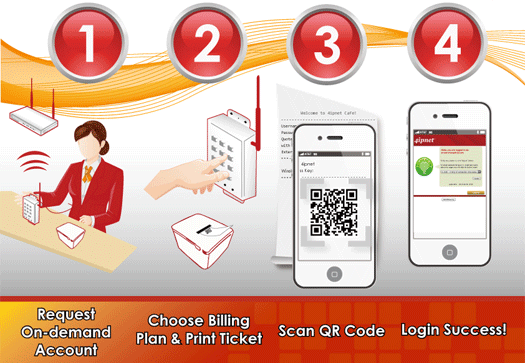 Features of the 4ipNet HSG260-WTG2 Kit:
2.4GHz 2 x 2 MIMO Field Replaceable Antenna & Backward Compatible with 802.11n/b/g
The antenna diversity design enhances the connection reliability to improve data transmission capability
Two detachable antennas for optimal wireless coverage and field replacement flexibility
Equipped with a high-speed IEEE 802.11n/b/g wireless network interface, transmission rates up to 300Mbps
Easy Installation and Operation
Support various broadband deployment options (T1, DSL, Cable) via static IP, DHCP and PPPoE
Integrated access point enables Wi-Fi access and eliminates the need for additional device
Built-in user database provides sufficient account capacity for different operation scenarios
Work on-demand account generator to provide user accounts for visitor-based, on-demand operations
Integrated Security Features
Standards-based data encryption and user authentication: WEP, WPA, WPA2, IEEE 802.1X
Secure guest and administrator access using web-based login and administration over SSL
Configurable packet filtering policies enhance data traffic security
4ipWES (Press-n-Connect) with push button enables quick/auto WDS link
Built-in DoS protection prevents malicious hackers from collapsing the network
Effective User Management
Complete authentication mechanism blocks unauthenticated users from gaining access to the network
Role-based and policy-based control policies enhances the protection against malicious users
"On-line user list" monitors real-time status of each individual user
Allow session expiration control for On-demand users by time basis
Flexible Accounting and Billing
Programmable billing profiles allow operators to customize the billing plans for On-demand users
Bandwidth control enables class of service for different levels of users and maximize profits
Detailed per-user traffic history log for analysis and record keeping
QR Code Auto-Login
Auto-Login with Mobile Smart Phone/Tablets by scanning QR Code printed on the On-demand Ticket from PRT200