Nextbook FLEXX 11A 2-in-1 Quad Core Windows 10 Tablet
Techwarelabs has a long history of analysis and review of mobile devices. We have looked at a few of Nextbook's offerings and the latest FLEXX11A builds upon their experience to give us a product offering that is both affordable and has surprising performance. With a retail price tag of a mere $179 on special at Walmart you are getting a full fledged laptop 2-in-1 which includes some upscale features only found on pricier models.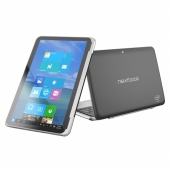 Here is what Nextbook has to say about the FLEXX 11A:
Bigger and better than ever, the Nextbook Flexx 11A tablet is the enhanced tablet you've been looking for. With an 11.6-inch screen, 16:9 aspect ratio and 1366×768 resolution (IPS), the Nextbook Flexx 11A delivers great image quality to read, work, watch, stream or play. Weighing less than four pounds, the Nextbook Flexx 11A is a sleek, lightweight tablet, making it the ideal companion to enjoy anywhere anytime.
The FLEXX 11A is an ultra portable 11.6 and its 2-in-1 nature means that the screen can be removed from the keyboard to use as a tablet. This also means that the screen has touch capability. I personally like the 10″ and under category for the best in portability but the FLEXX 11A has an easier to use keyboard than anything in the 10″ and under category, and the screen size is larger meaning its easier to read and see. The FLEXX 11A would be perfect for a student, traveler, children, or seniors. I personally use a small 2-in-1 laptop in my kitchen for easy access to recipies and information. The new FLEXX 11A could very well replace it.