FLEXX 11A Specifications and Usability
The FLEXX 11A is not particularly impressive until you consider the price tag is currently $179 for this product at Walmart. I challenge anyone to find a better value for a touchscreen 2-in-1. This sub-$200 laptop brings with it a 720p screen, hdmi out, and much more. Take a look at the full specifications below.
11.6 inch High-resolution 1366 x 768 IPS Screen
Intel® ATOM™ Quad-Core Processor 1.84GHz (Z8300)
2GB DDR3L; 64GB onboard storage
WIFI 802.11 b/g/n
Bluetooth 4.0
Front and Back Camera 2.0 MP
Micro HDMI
Pogo Keyboard with one USB 2.0 port
Micro-SD card slot for expansion to 128GB
Support 3 -axis G-sensor
Built-in microphone
9000 mAh Internal rechargeable battery
Charging indicator light
Windows 10
Office Mobile
The highlights here are the Z8300, the latest Gen Intel Atom quad core processor, as well as 64GB of onboard storage. Rounding out the package are a micro SD card slot, Bluetooth 4.0, front and back cameras, and a micro HDMI port. The 9000 mAh battery means that the FLEXX 11A should last about 6 hours of reasonable use. I am particularly fond of the fact that Nextbook choose to integrate a 2.0 USB port into the keyboard. This alone means that the versatility and usability of the FLEXX 11A is much expanded.
Usability
Usability is a subjective measurement of a products every day application and hands on use. I look at a few key areas to determine a products overall usability.
Does the product fulfill its intended purpose or are there shortcomings?
Does the product perform in a manner in which it aids in productivity or impede?
Does the device interface facilitate ease of use or hinder use?
To this end I have made the FLEXX 11A my sole computing device for a period of three days. I utilized each of its interfaces and technologies to measure impact on the system and to see if they assisted in the overall device experience. Additionally I used the device in tablet mode each day for an extended duration.
My first impression of the FLEXX 11A was that for an 11.6″ it was not light weight compared to similarly sized devices. Officially spec'd at just over 3 pounds, it feels a bit heavier, but we checked and it is exactly 3.2 pounds as per the specs. Other noteworthy impressions were that they keyboard is superb for such a small model. They key spacing's and tactile feedback are excellent. I found it very easy to type on. The touch pad is just the right size, and right/left click work well without defined buttons. The screen is fairly bright, and very clear, and while I am not a huge fan of the 1366 x 768 resolution I found that it is well suited to the FLEXX 11A. The screen bezel is not overly large and is blended well into the frame so that it doesn't become an eye sore or distracting.
In total I used the Nextbook for a bit more than 5 hours continuously the first day without any issues with the battery. I tested 1080p playback on the FLEXX 11A which can be problematic for many tablets and 2-in-1's running lower power chips and found that the Nextbook FLEXX 11A handles it without a problem. I can easily see myself utilizing the FLEXX 11A on my next trip with the kids to keep them occupied in the back seat with a movie. Twin speakers located at the bottom of the screen provide more than enough volume for a car, small room, even light to moderate noise levels, and the FLEXX 11A includes Bluetooth so you have the option to play sound through your car speakers or an external Bluetooth speaker if you find you need more volume. Options are always good, I like options in mobile platforms, and speaking of options the FLEXX 11A includes a micro SD card slot that allows for expanded storage up to 128GB so I will have more than enough storage for the movies, media, or additional programs.
Detaching the screen and using the FLEXX 11A is easy as it is held in place via a magnetic dock. These prove to work very very well for the 11A as the screen was held firmly in place but still easy to detach when desired. There was no flex in the screen or dock and we were able to position the laptop at any angle we desired without the screen slowly falling or tipping over. Most of the weight of the FLEXX 11A is in the screen so this is really due to good engineering as some 2-in-1 systems will tip when opened to their maximum angle. The magnetic mechanism is an upgrade that the 11A has received over the previous gen FLEXX 11. I much prefer this style over the old clip and button detachment but we will miss the backlit keyboard even though the letters on the keys did not show through. Overall the keyboard is much improved.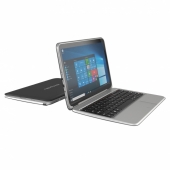 Design Notes
Looking at the overall construction and design of the FLEXX 11A we see a few highlights and potential issues. Starting with the highlights we see plenty of ports and room for expansion. The inclusion of the full size USB port is very overlooked in many 2-in-1's and nearly unseen in tablets. The speakers again are placed in front instead of behind the screen and this allows them to actually be useful. We really like the rear mounted volume rocker for easy volume control, and the inclusion of micro USB and micro HDMI ports to further the potential uses of the FLEXX 11A. Nextbook has decided to drop the rubberized finish found on the original FLEXX 11 in favor of a hard satin plastic finish found on the new 11A and while this may seem a downgrade believe me when I tell you that after a few months use the rubberized finish will show wear and can become sticky. As an added bonus the new finish is not a fingerprint magnet and doesnt show marks or oil from your fingers. You won't find yourself wanting to wipe the shell down every time you pick it up as it retains its clean appearance.
On the flip side there is really not much to complain about. Design-wise, the FLEXX 11 A retains the power port placement and I've already made the mistake of plugging in the AC adapter into the speaker port. They are nearly identical in size and are placed close enough to each other that you can expect confusion to arise. Aside from that there are no glaring issues that I can find.
Lets talk performance.