Introduction
Apple announced a slew of new features to Apple's upcoming operations system OS X 10.7 Lion at their recent World Wide Developers Conference. They also announced a new service called iCloud, as well as many new features to their new mobile OS, iOS 5. Much of the event talked about how iOS 5, Lion, and iCloud acted together to make your life easier. But the big news to me was Lion. While I have an iPhone 4 and really don't see any other way to go (though those Windows 7 phones are pretty shiny), I'm on my Macbook Pro much more than my iPhone and definitely more than my PC, so the news here was more exciting. Granted a lot of it I already knew. Apple actually showed off Lion last November, and the developer preview has been out since February, but that of course didn't stop Apple from showing it off some more. With all this time to think of it's new features, and it's July release getting ever closer, I thought I'd talk a little about how I think 5 of Lions 250+ new features will increase your productivity.
1. Auto Save, Versions, and Resume

While these are technically three separate features, I like to consider them as one big one. With Lion, supported applications will auto save your work, so you don't have to. I consider this to be a minor productivity boon, considering how frequently I hit cmd+s anyway.

Versions to me is a biggie and I really hope major third parties implement this sooner rather than later. I'm looking at you Adobe! Versions brings Time Machine to individual applications. Versions creates snapshots of your document every hour you are working or you can perform them manually. If you mess up or really want to see what you did earlier, you can browse through your version history side by side with your current document as well as copy and paste past sections or restore the entire document.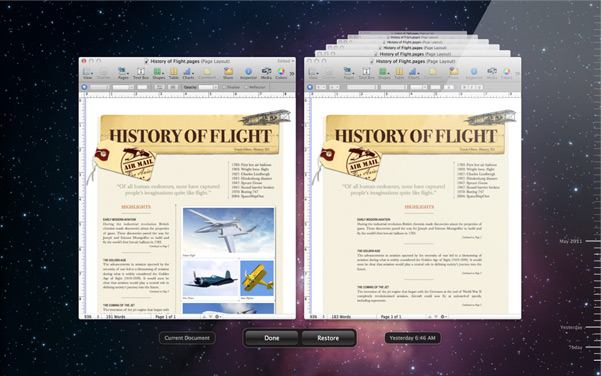 Resume keeps you where you were even if you've closed the program or restarted your machine. This will make restarting your computer only a minor inconvenience, instead of a workflow killer.
2. Documents in the Cloud

Documents in the Cloud is really more of an iCloud feature, but it's productivity gains can be seen directly in Lion. With Documents in the Cloud, all of your save files will immediately be synced to the cloud and then downloaded to your iOS devices if they have the same app. For example, I can work on a paper in Pages, and then run out the door and pull up the same app in my iPhone or iPad. And since Pages has auto save, you really don't have to think about it.
3. AirDrop

As someone who uses Bonjour almost daily, I'm really excited for AirDrop. AirDrop uses the same zero-config network protocol as Bonjour, but is now part of Finder and is Mac-to-Mac. It doesn't rely on the network. AirDrop will detect nearby Macs running Lion and allow you to drag-and-drop files to them in an instant. They just accept the file and it automatically downloads to their downloads folder. No more iChat or network to rely on.
4. Multi-Touch Gestures

When Lion was first demoed last November, the big focus was on Multi-Touch. With multi-touch, you can smoothly switch between applications and navigate Safari as well as launch the new Mission Control. I found this to be particularly useful with Full screen apps.

5. Full Screen Apps

Full Screen Apps are something many Windows users always ask me how to do when they sit at a Mac. Until now, I've never thought it useful. Windows' implementation of maximizing windows is just a waste of space, especially on a web browser and on newer high-resolution screens. With Apple's implementation, apps are written for full screen, and the interface really fills the screen. Each full screen app becomes it's own Space, and if you use a three-finger swipe, you can easily switch between your full screen apps.
I feel that this is a better approach to full screen applications than with Windows' because of how easy it is to have multiple full screen apps.  In Windows, if you have a maximized program you have to either rely on alt-tab, or the task bar, which I find to be slow, especially on my large screen and especially since alt-tab switches windows, and not applications.
Sadly, Full screen apps seemed to be designed with one screen in mind. If you have more than one screen and then enter full screen mode, your other screens fade. Full screen apps seem to be geared towards Apple's smaller screens, like the MacBook/MacBook Pro, as well as their iLife suite. If you have a multi-screen workflow, you can forget about full screening your apps. Hopefully Apple will change this in an update.
Conclusion
Lion is going to bring about many new ways that people use their computers and I think it's going to really lock in current Mac users, as well as give those on the fence even more reasons to get a Mac. While Windows 7 added some productivity features, I feel like many of them weren't for the everyman. Lion has features that are clearly for everyone, and not just for some (though I'll probably use LaunchPad once, and then forget it's even there).