Introduction:
RAM is one of those things that can be easily overlooked. It can be confusing picking out what kind and how much you need. However RAM is one of the most important pieces of your machine, and can be a serious bottleneck if you don't have the optimum RAM speed and amount. With more RAM you can do more things at once. Multitaskers rejoice, because here's the Crucial Ballistix Tracer 6GB Kit.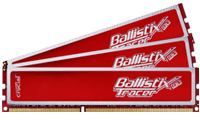 Crucial's Take:
Ballistix Tracer memory is specifically built for performance enthusiasts and case modders who want to push the performance envelope while adding flash appeal to their boxes. The Ballistix line of high-performance memory modules features advanced speed grades, low latencies, and integrated aluminum heat spreaders. Ballistix Tracer memory features a red PCB, red integrated heat spreaders, and one or two rows of eight "chasing" red LEDs atop the module, circulating in a random pattern based on memory utilization. A custom-designed circuit relays bus activity to the LEDs, allowing them to accurately reflect usage of each memory module. In addition, eight red ground effects LEDs emit a constant glow near the pins.
Specifications & Features:
Module Size: 6GB kit (2GBx3)
Package: Ballistix Tracer 240-pin DIMM (with LEDs)
Feature: DDR3 PC3-12800
Specs: DDR3 PC3-12800 • 8-8-8-24 • Unbuffered • NON-ECC • DDR3-1600 • 1.65V • 256Meg x 64
what this all means.