Specifications
General information
Type
CPU / Microprocessor
Family
AMD Athlon II X3
Model number
415e
CPU part number
AD415EHDK32GM
Box part number
AD415EHDGMBOX
Frequency (MHz)
2500
Bus speed (MHz) <

667 MHz Memory controller
One 2000 MHz 16-bit HyperTransport link

Package
938-pin organic micro-PGA
Sockets
Socket AM2+
Socket AM3
Introduction date
May 10, 2010
Price at introduction
$102
Architecture / Microarchitecture
Processor core
Rana
Core stepping
C3
Manufacturing process
0.045 micron
Die size
169 mm2
Data width
64 bit
Number of cores
3
Floating Point Unit
Integrated
Level 1 cache size
3 x 64 KB instruction caches3 x 64 KB data caches
Level 2 cache size
3 x 512 KB caches
Electrical/Thermal parameters
V core (V)
0.775 – 1.25
Maximum operating temperature (°C)
72
Thermal Design Power (W)
45
Closer Look
A close look at the specs shows us that the 415e has a 12.5 multiplier with a 200MHz bus, which shouldn't be to bad for overclocking, as well as 1.5MB of L2 cache. This puts the 415e just underneath AMDs regular powered Athlon II x3 435 2.9GHz, which isn't a bad place to be. The specs are almost identical save for the speed and power consumption; the 435 also has a higher multiplier. This seems like it would be great for a small lower powered machine. Great for home theater, servers, etc; basically anything that usually stays on for extended amounts of time.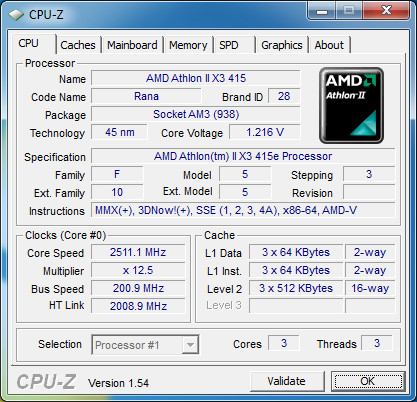 As I mentioned before, the 415e shares similar specs to the 435, which isn't surprising considering they are based around the same architecture, Rana. Rana is the base of AMD's newest line of Athlon II triple core processors. Rana is derived from Propus, which is the code name for AMD's quad core Athlon series. Rana is simply a Propus die with one disabled core (often a defective core). Propus in itself is a derivation of the new Phenom II series; the difference being Propus' lack of L3 cache giving the Phenom II a considerable edge.
Testing
Test Rig
| | |
| --- | --- |
| Motherboard | Gigabyte 890gpa-ud3h |
| Heatsink | Thermaltake TR2-R1 |
| Power Supply | FSP Group Everest 700 |
| RAM | Geil 4GB DDR3 (2x2GB) |
| Hard drive | 160GB Seagate Barracuda |
| GPU | Integrated Radeon 4290 |
Keep in mind that the results are for your testing benefit. Check your rig against these results to see how much of an upgrade you might get.
SiSoft Sandra
"SiSoftware Sandra (the System ANalyser, Diagnostic and Reporting Assistant) is an information & diagnostic utility. It should provide most of the information (including undocumented) you need to know about your hardware, software and other devices whether hardware or software. It works along the lines of other Windows utilities, however it tries to go beyond them and show you more of what's really going on. Giving the user the ability to draw comparisons at both a high and low-level. You can get information about the CPU, chipset, video adapter, ports, printers , sound card, memory, network, Windows internals, AGP, PCI, PCI-X, PCIe (PCI Express), database, USB, USB2, 1394/Firewire, etc."
The latest edition of SiSoft Sandra follows the tradition of testing the pure synthetic power of processors. We ran our test comparisons as shown against equivalent processors made by both Intel and AMD. Lets see how the AMD Athlon II x3 415 fairs against others.
Arithmetic
Cryptography
Multi-Core Efficiency
Power Management
Processor Multi Media
As you can see, the 415e does pretty well against it's competition, but doesn't show any cause for celebration. What is nice, though, is that the 415e does this well while using less power. Efficiency is not something to scoff at.