Introduction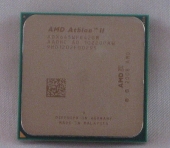 Anyone can build "the ultimate gaming PC",with enough cash. It's just a matter of finding the highest-end parts you can, surfing over to your favorite parts retailer's website, and mortgaging an arm, a leg, and both kidneys. A more interesting challenge is trying to build a gaming PC with budget constraints. Building a PC for $750, that will handle the latest games is somewhat more difficult. You have to make hard decisions about the critical components: video card, motherboard, RAM, and CPU.
In an effort to make the CPU part of the decision a bit easier, AMD offers a broad selection of CPUs, most in the sub-$200 range. Clocking in at $119 MSRP, the Athlon II X4 645 code named "Propus" promises an improvement on the already solid performance of the X4 640, at a price just over half of Intel's nearest equivalent, the i5 750. Stick with us while we put this processor through its paces.
This processor along with several others will be released by AMD this week. Prices and figures are as below:
Processors & Pricing:
•       3.5GHz (3.0GHz base)    Phenom II  X6 1075T                     ~$245*
•       3.5GHz                  Phenom II X4 970 Black Edition  ~$185*
•       3.3GHz                  Phenom II X2 560 Black Edition  ~$105*
•       3.1GHz                  Athlon II X4 645                        ~$122*
•       3.2GHz                  Athlon II X3 450                        ~$87*
•       3.3GHz                  Athlon II X2 265                        ~$76*
*  Retail pricing estimate in U.S. dollars
AMD official DT CPU pricing pages to check existing chip prices:
AMD's Take
AMD Athlon II™ X4 645 Processor:
Model Number & Core Frequency:
X4 645 / 3.1GHz
OPN:
ADX645WFK42GM
L1 Cache Sizes:
64K of L1 instruction and 64K of L1 data cache per core (512KB total L1 per processor)
L2 Cache Sizes:
512KB of L2 data cache per core (2MB total L2 per processor)
Memory Controller Type:
Integrated 128-bit wide memory controller *
Memory Controller Speed:
Up to 2.0GHz with Dual Dynamic Power Management
Types of Memory Supported:
Unregistered DIMMs up to PC2-8500 (DDR2-1066MHz) -AND- PC3-10600 (DDR3-1333MHz)
HyperTransport 3.0 Specification:
One 16-bit/16-bit link @ up to 4.0GHz full duplex (2.0GHz x2)
Total Processor-to-System Bandwidth:
Up to 37.3GB/s total bandwidth [Up to 21.3 GB/s memory bandwidth (DDR3-1333) + 16.0GB/s (HT3)]
Up to 33.1GB/s total bandwidth [Up to 17.1 GB/s memory bandwidth (DDR2-1066) + 16.0GB/s (HT3)]
Packaging:
Socket AM3 938-pin organic micro pin grid array (micro-PGA)
Fab location:
GLOBALFOUNDARIES Fab 1 module 1 in Dresden, Germany
Process Technology:
45-nanometer DSL SOI (silicon-on-insulator) technology
Approximate Die Size:
169 mm2
Approximate Transistor count:
~300 million
Max TDP:
95 Watts
AMD Codename:
"Propus"

*Note: configurable for dual 64-bit channels for simultaneous read/writes
So far, this is all looking very familiar. The only notable change from the X4 640, so far, is the 100mhz speed bump. Of course, we'll be taking a much closer look in the following pages.
Test Setup & CPU-Z Info
Testing was done on the following system:
Test System
CPU
AMD Athlon II X4 645 @ 3.1GHz
Heatsink
GlacialTech Igloo 5760
Motherboard
Jetway Hummer HA-09
Chipset
AMD 890GX
Graphics card
Sparkle GeForce GTX 465
RAM
2x4GB SuperTalent DDR3-2000 @ 1600MT/s, CL9
Sound
Creative Sound Blaster X-Fi Titanium Fatal1ty Edition
SSD
Crucial RealSSD 256GB SATA 6Gb/s
HDD 1
Seagate 7200.10 500GB
HDD 2
Western Digital Caviar Green 5900RPM 500GB
Power Supply
Nexus RX-6300 630W
Case
Silverstone Fortress FT-02
OS
Windows 7 Ultimate
Drivers
Forceware 258.96
Here's all the nitty-gritty details about the CPU, courtesy of CPUID's CPU-Z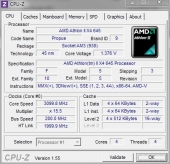 Click on the Thumbnail for a Larger Image